Trasplante de Pelo de la Dra. Alba Reyes. Resultados después de 9 meses.

Testimonio de paciente: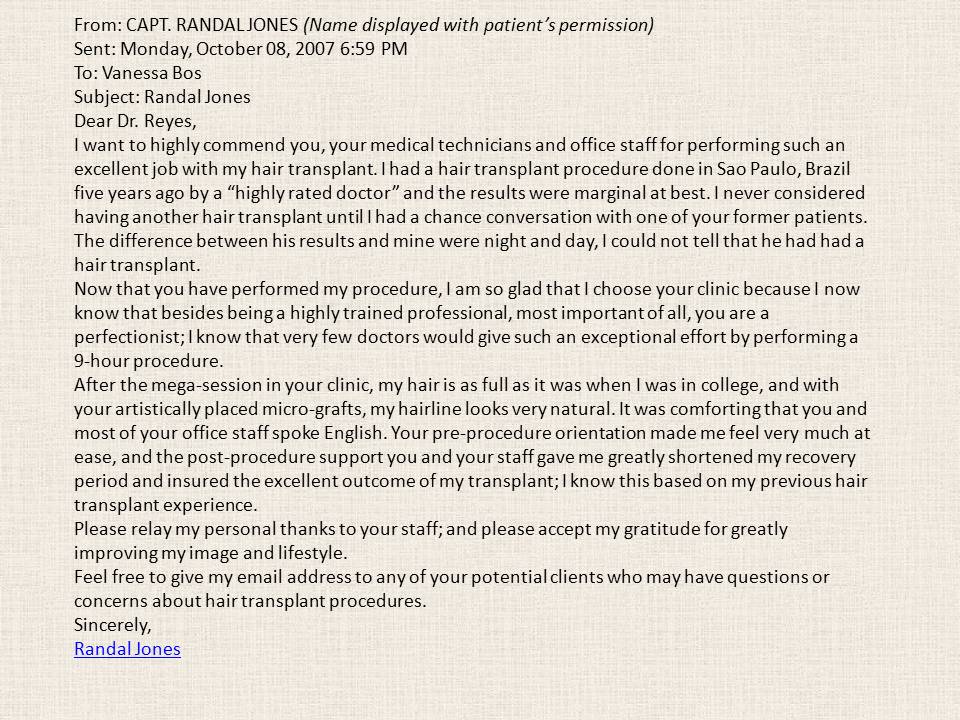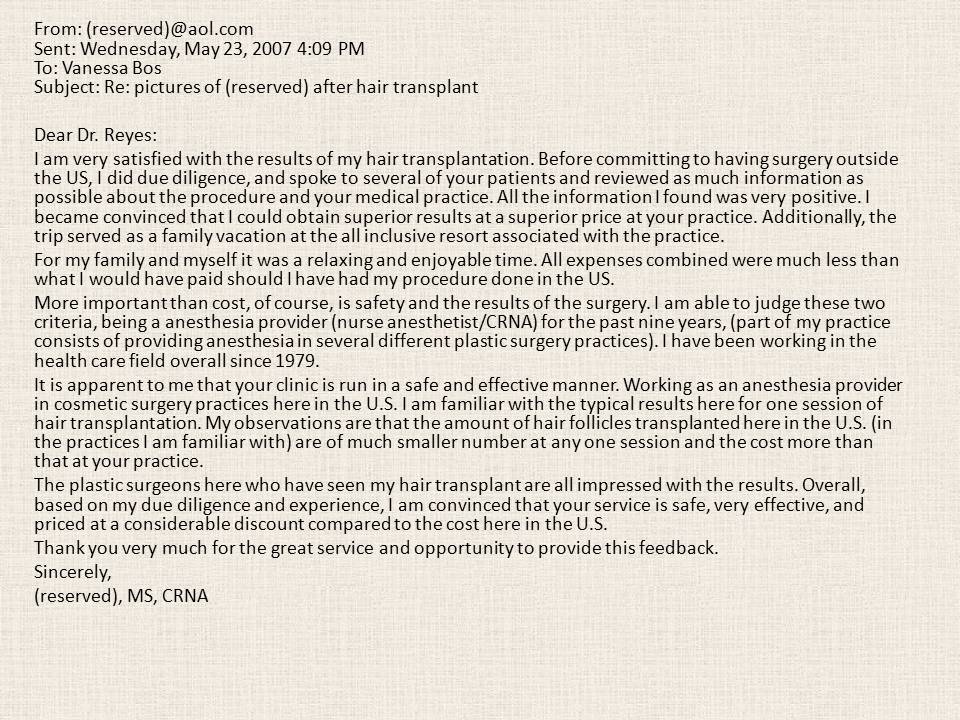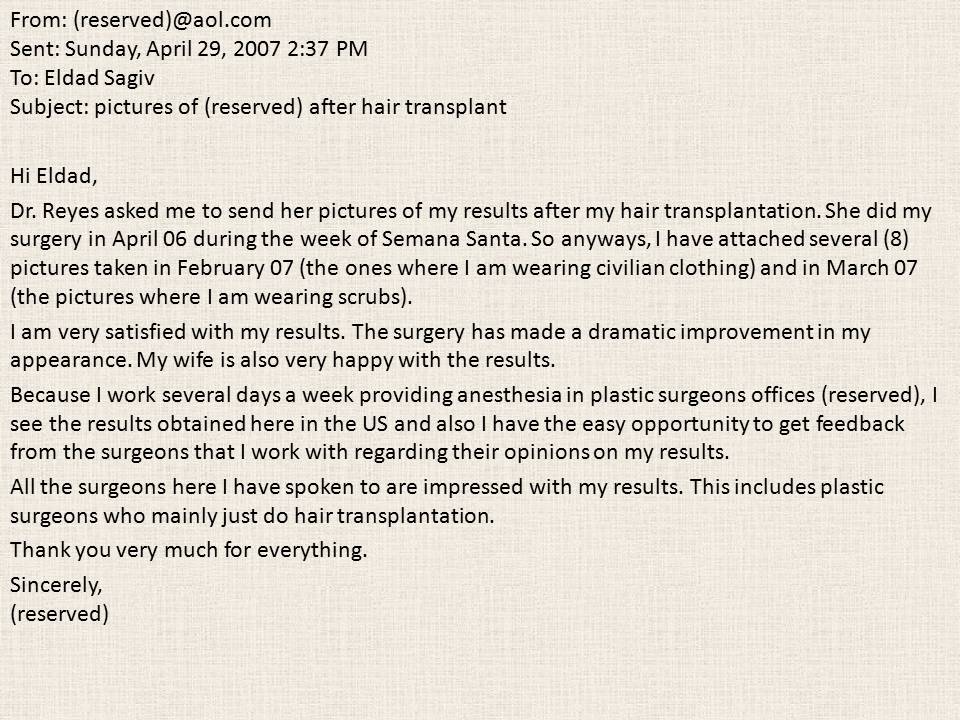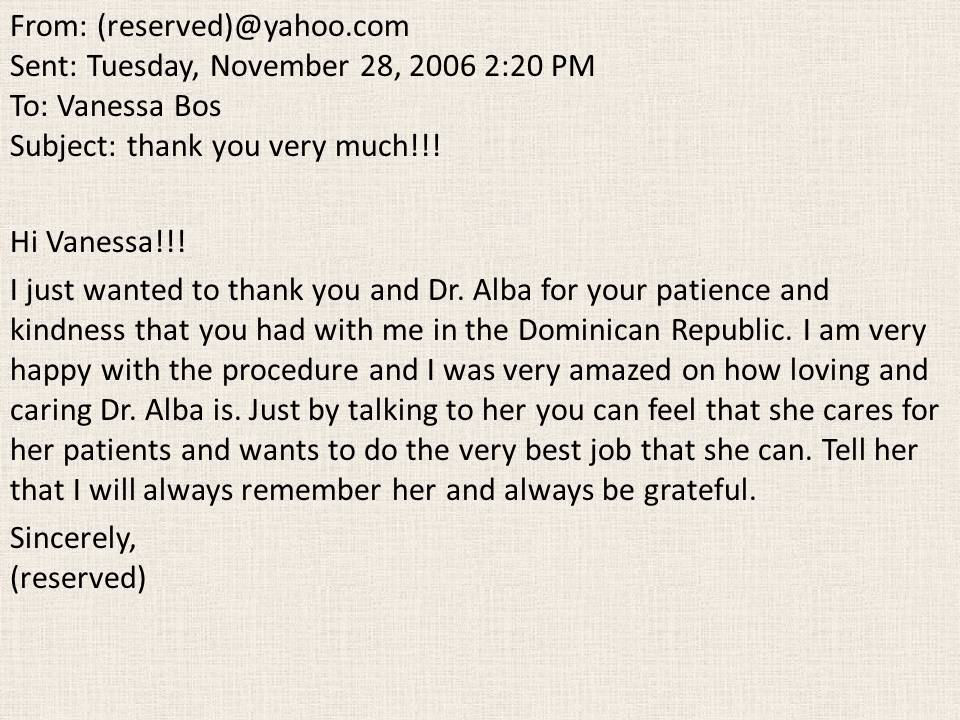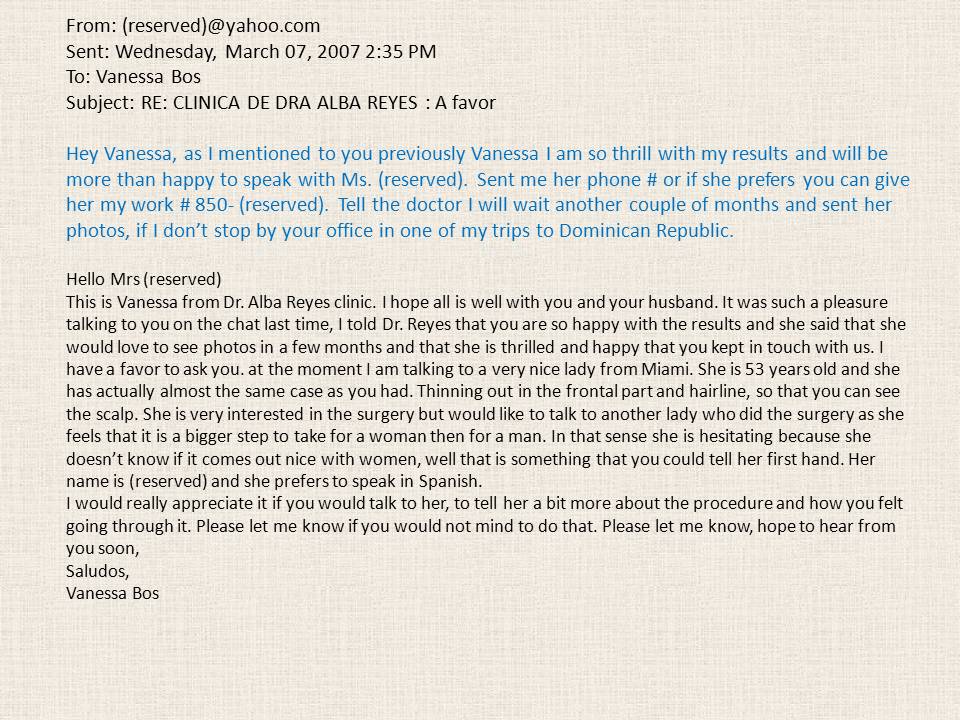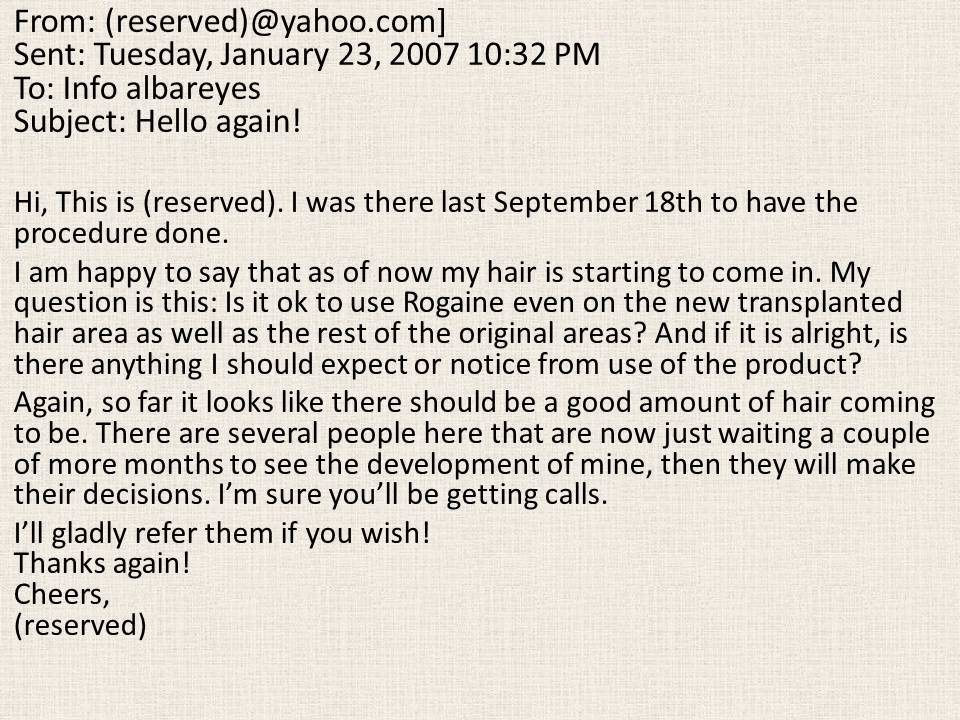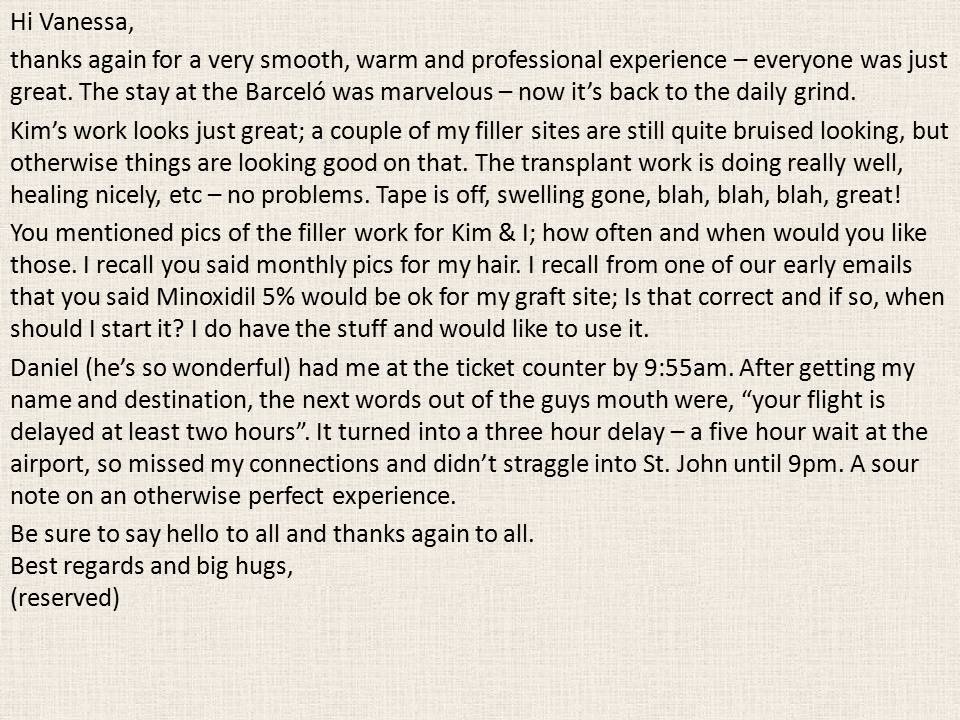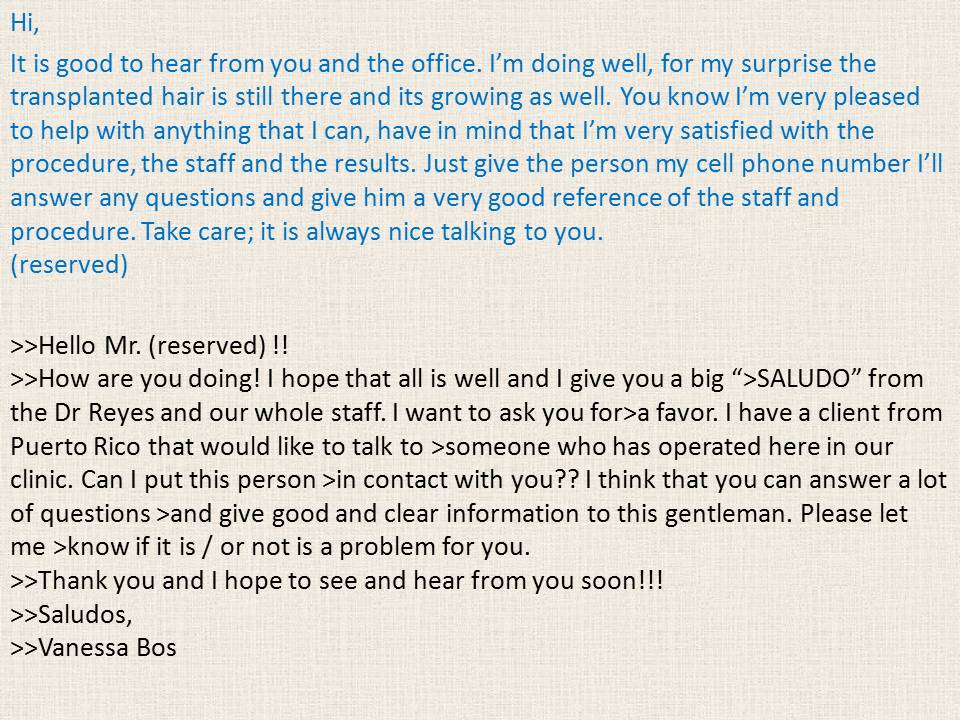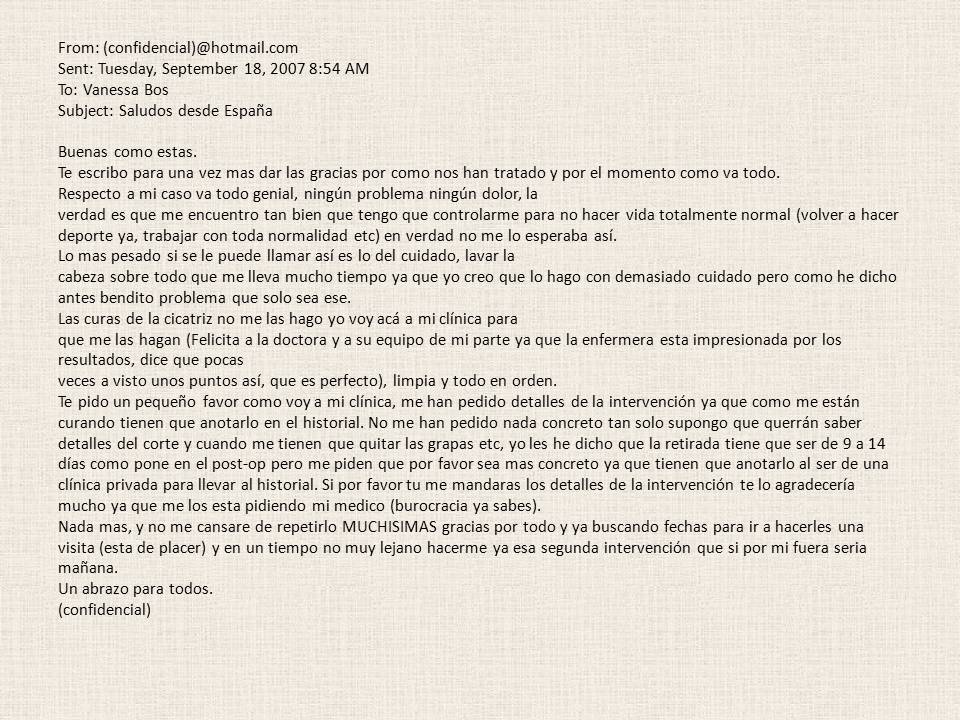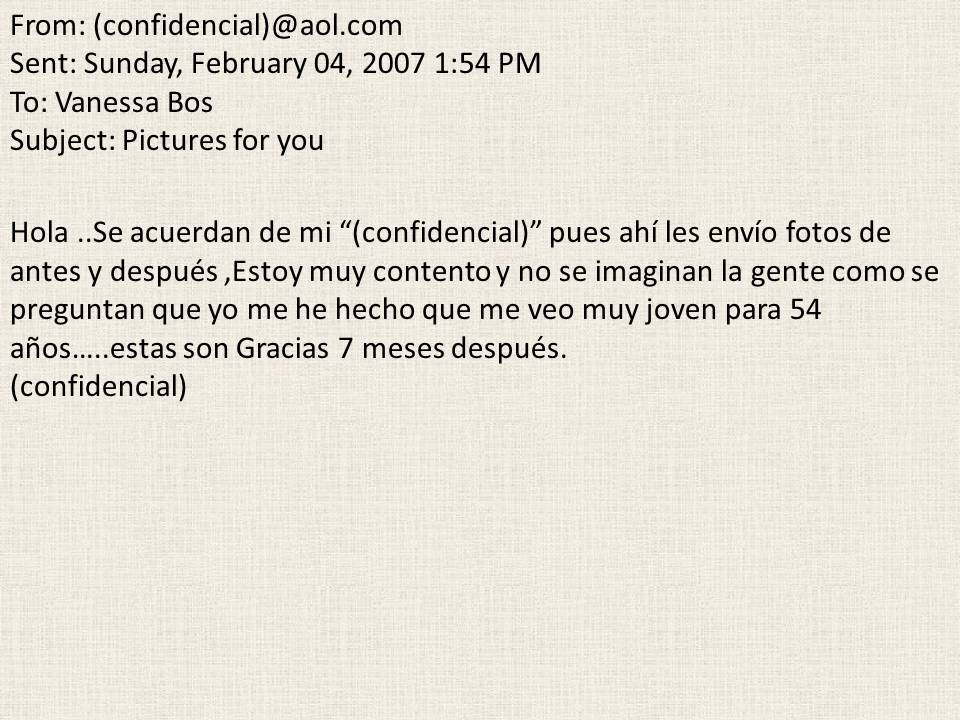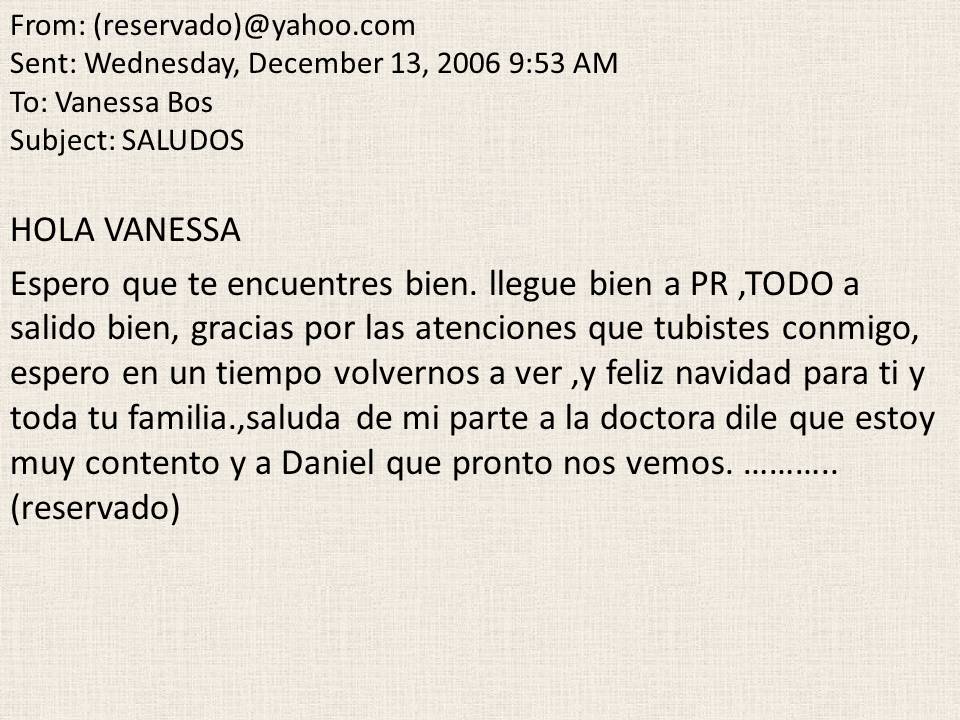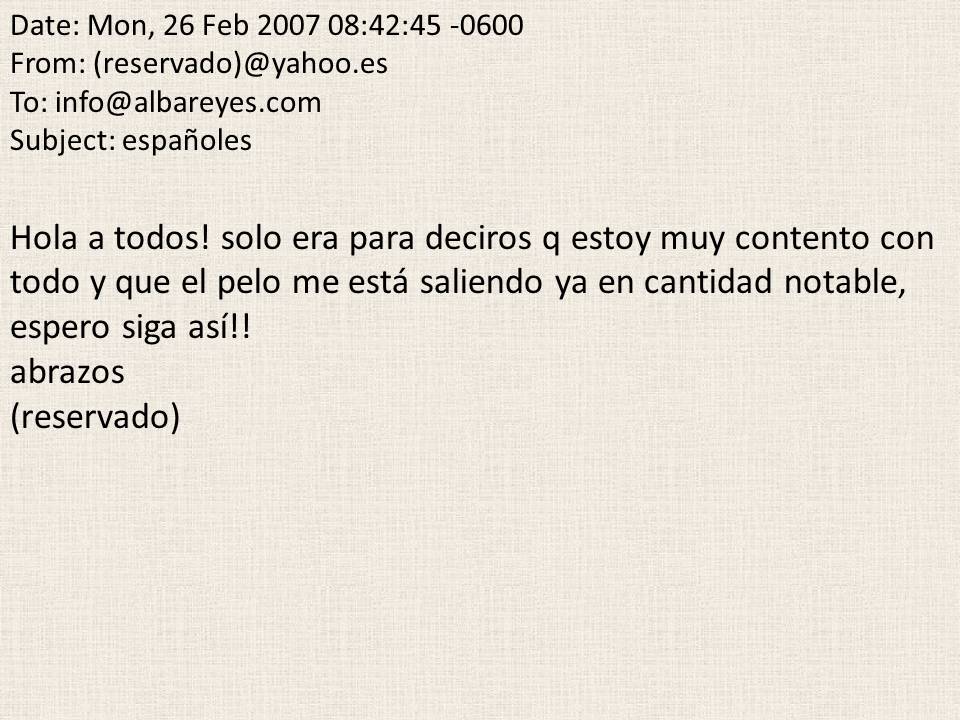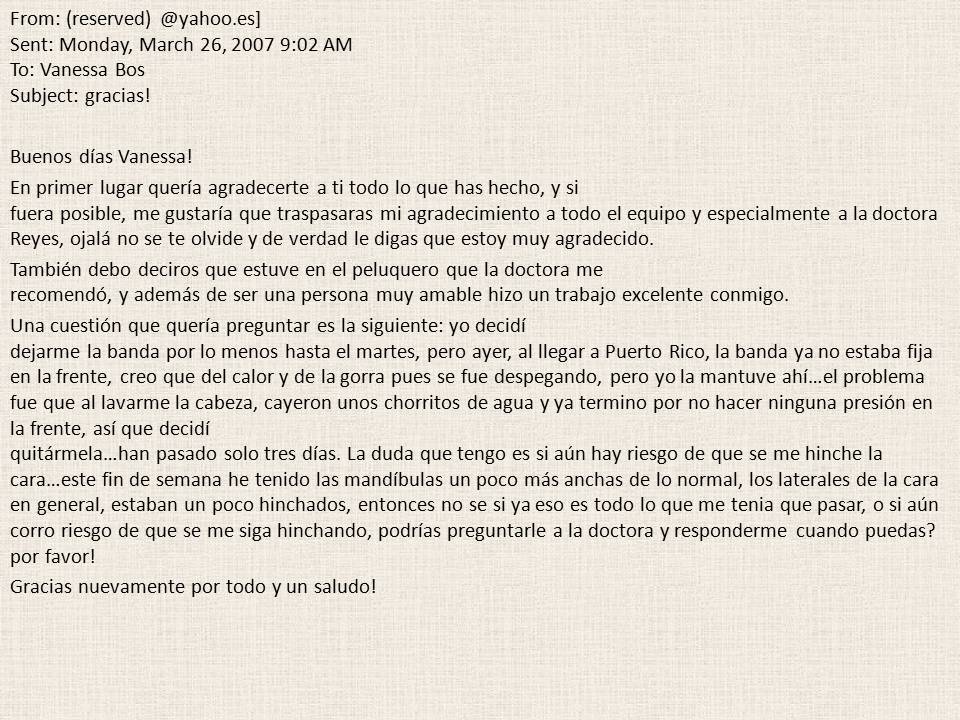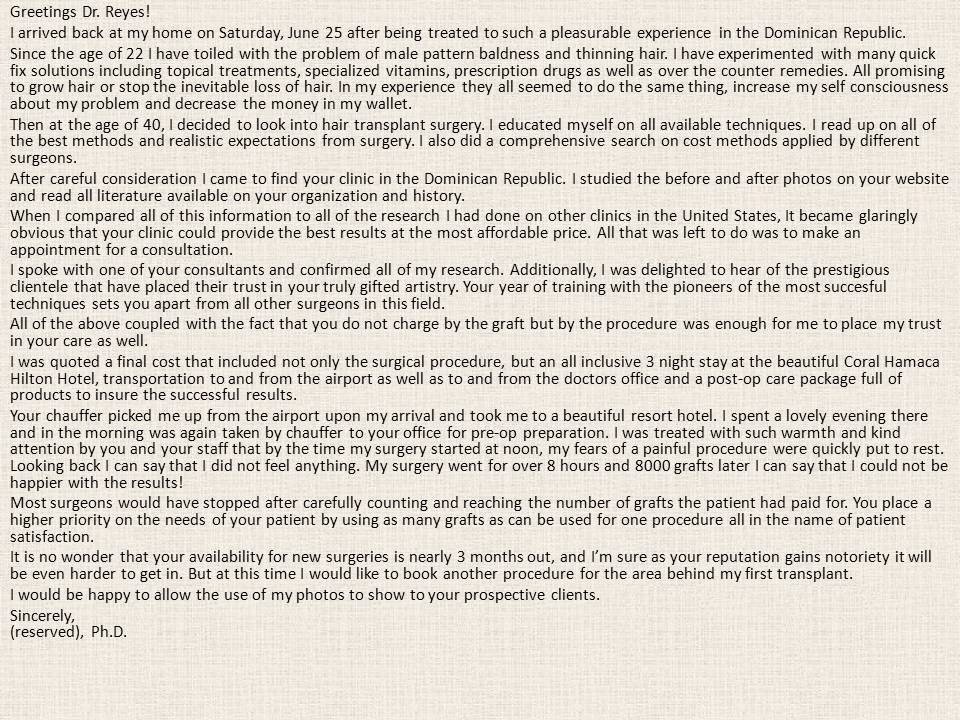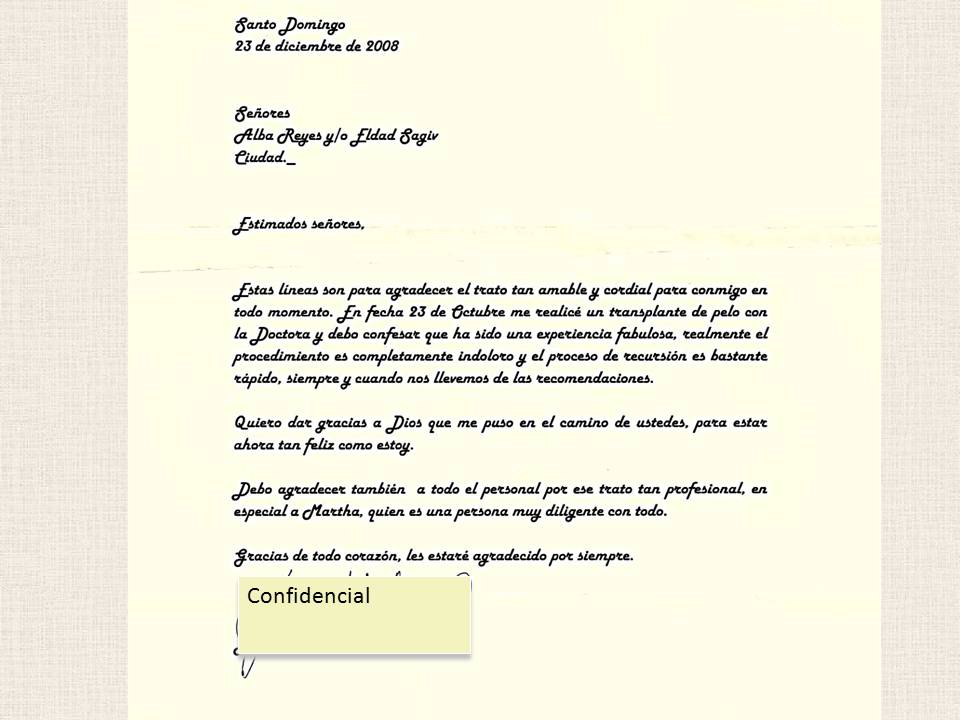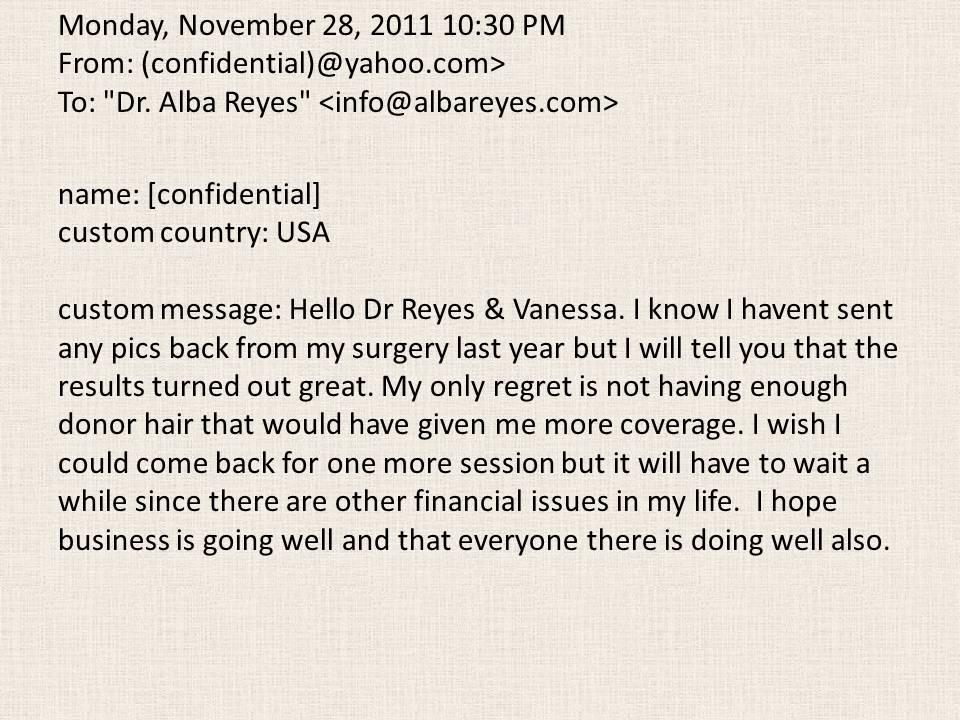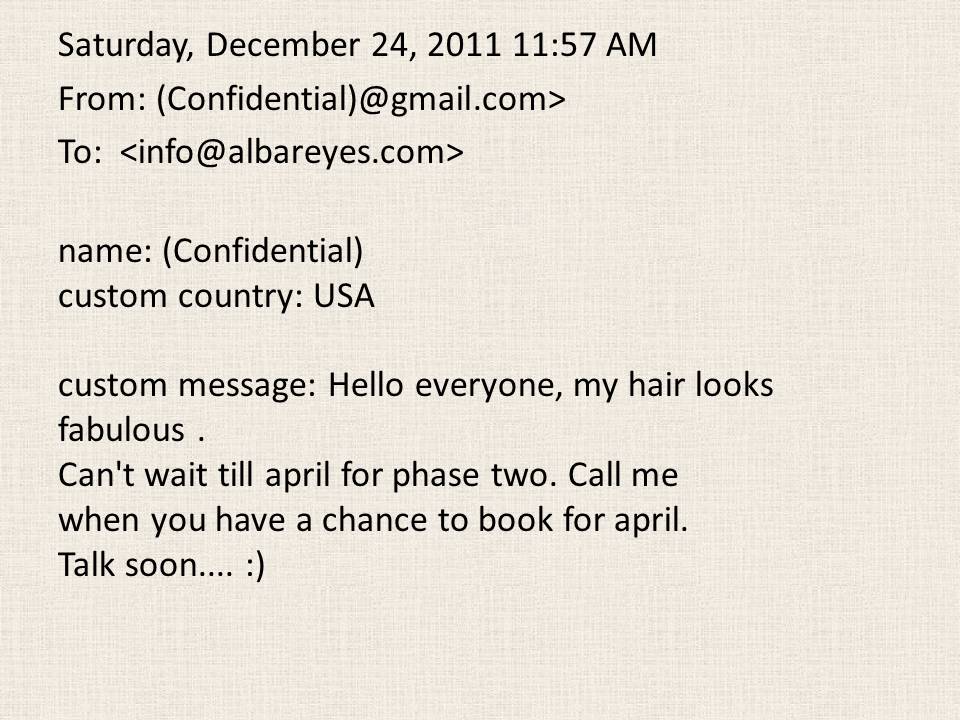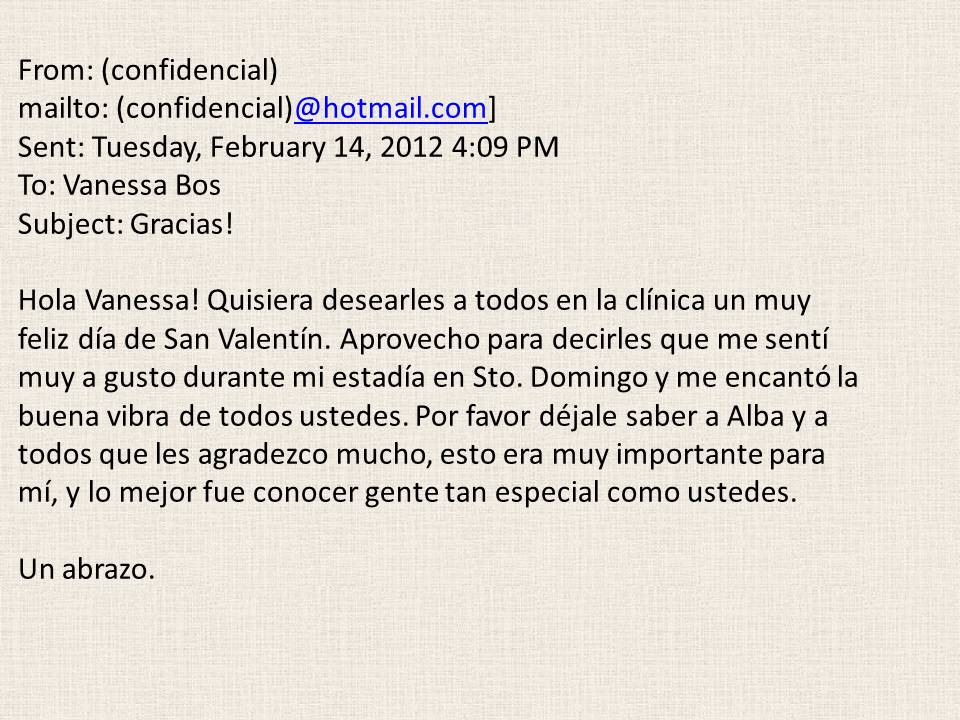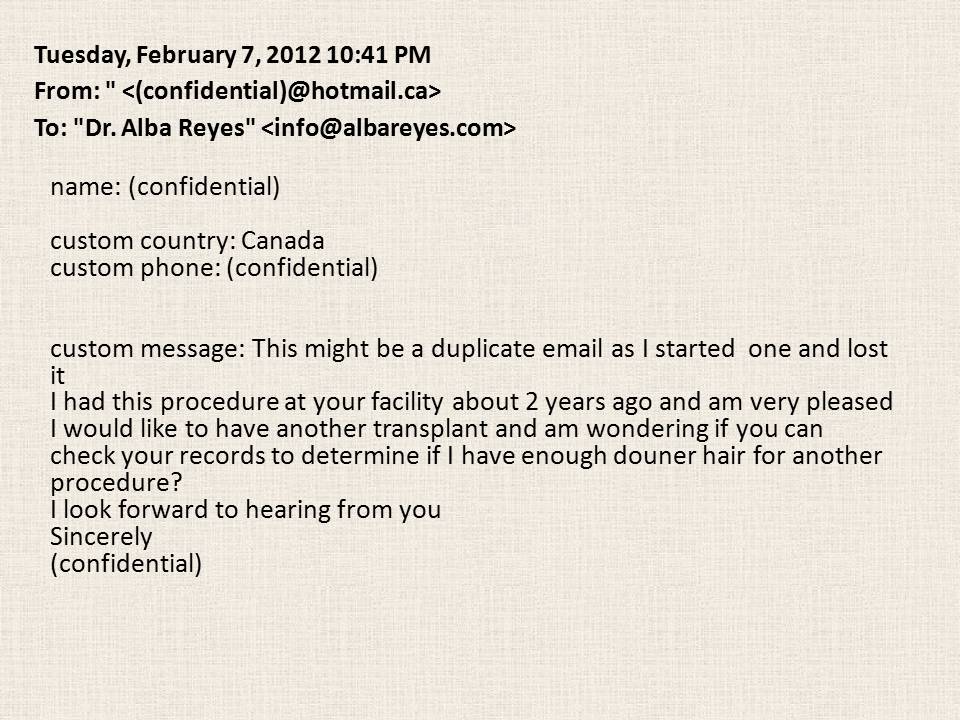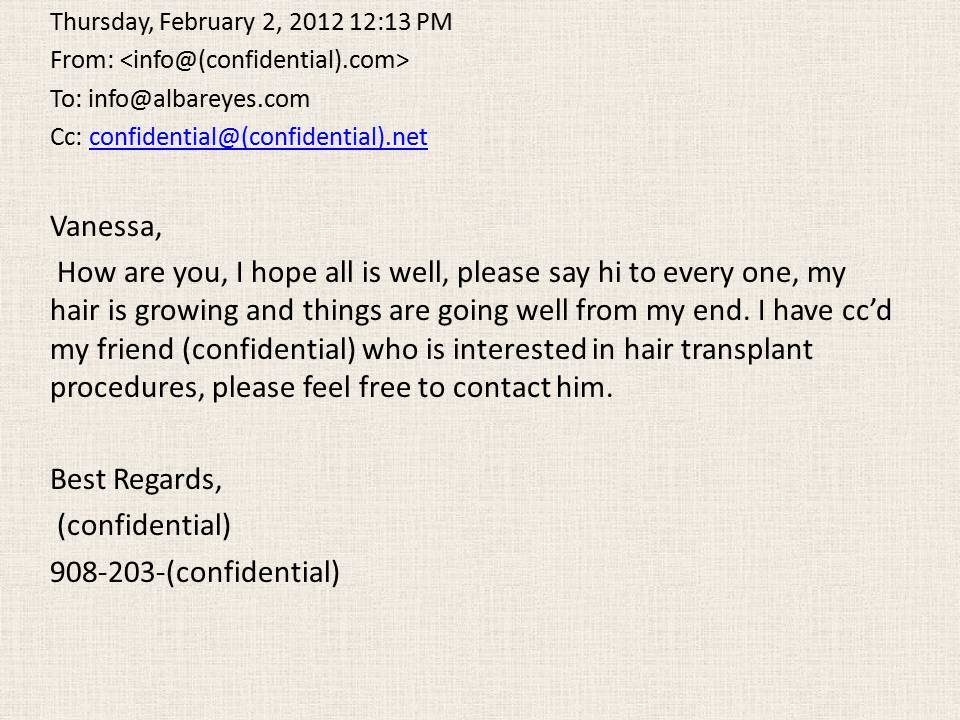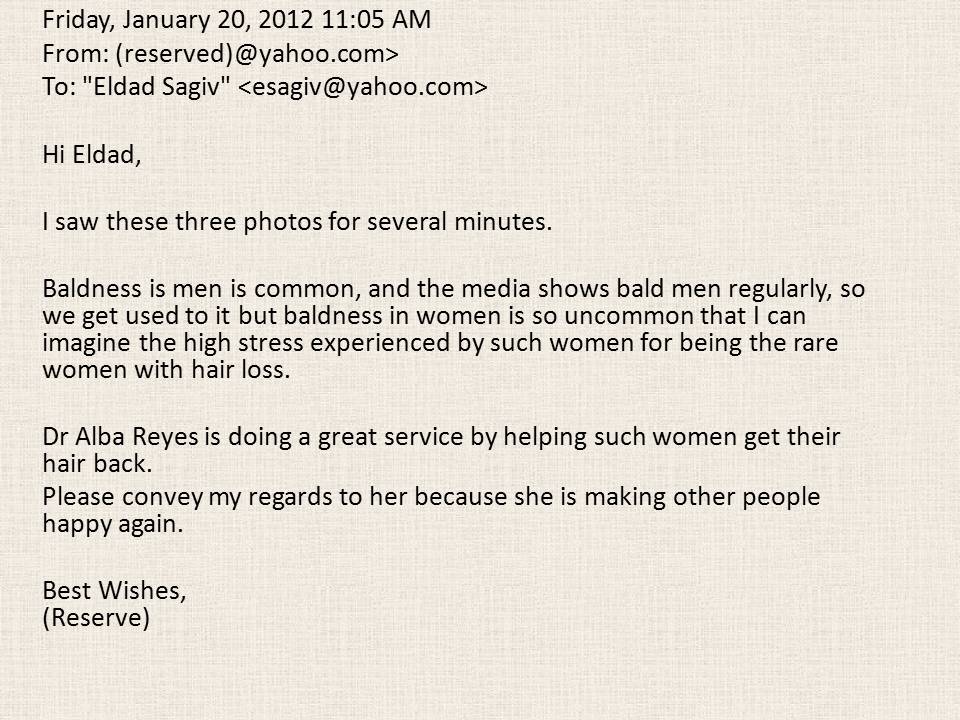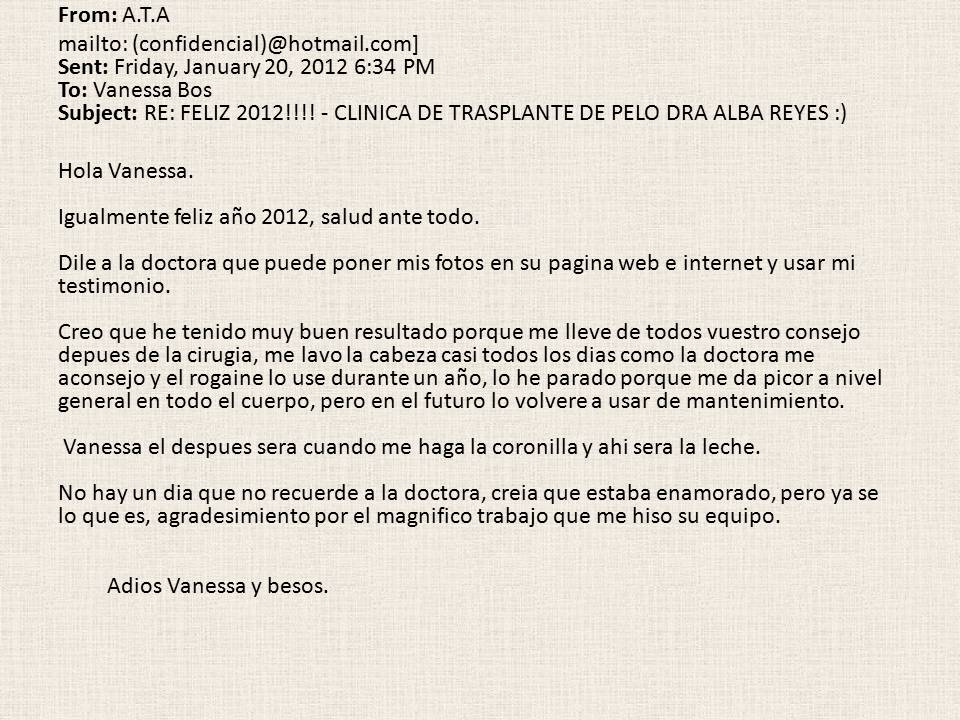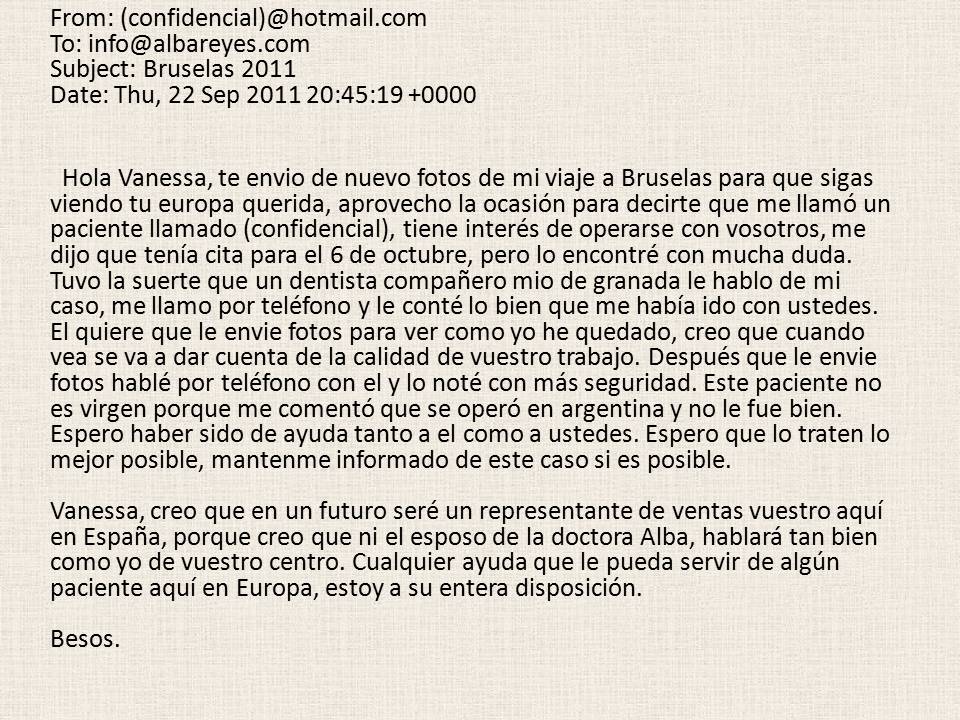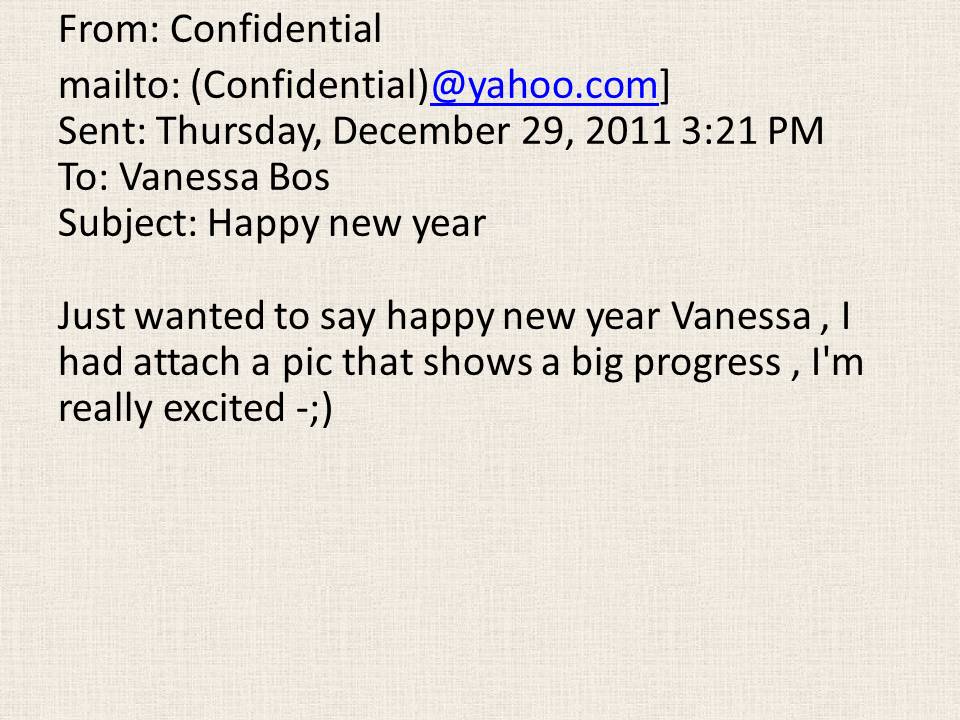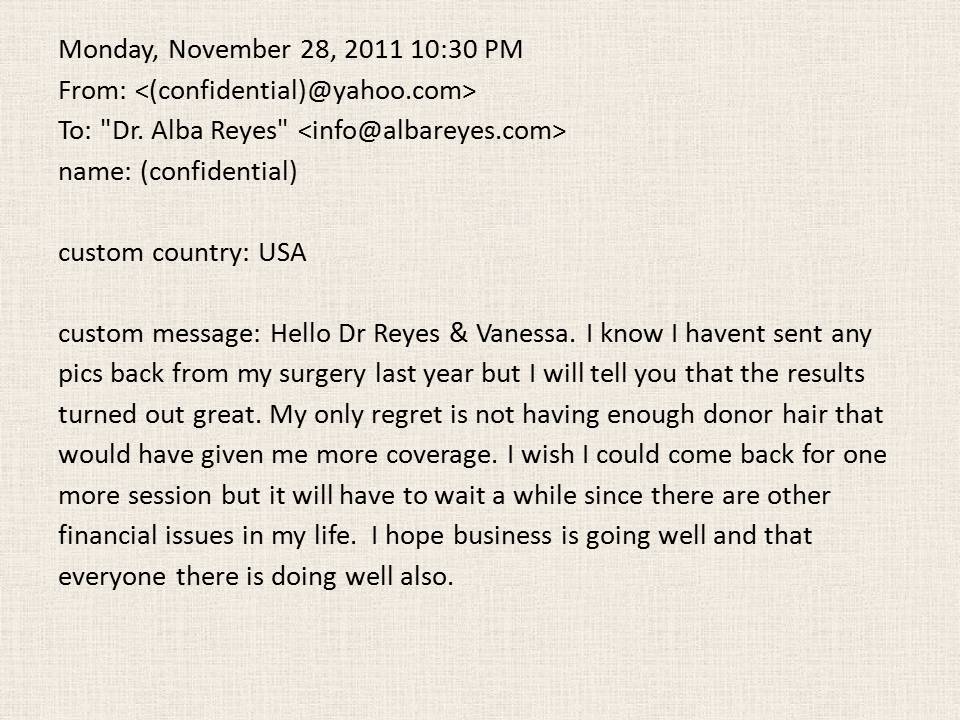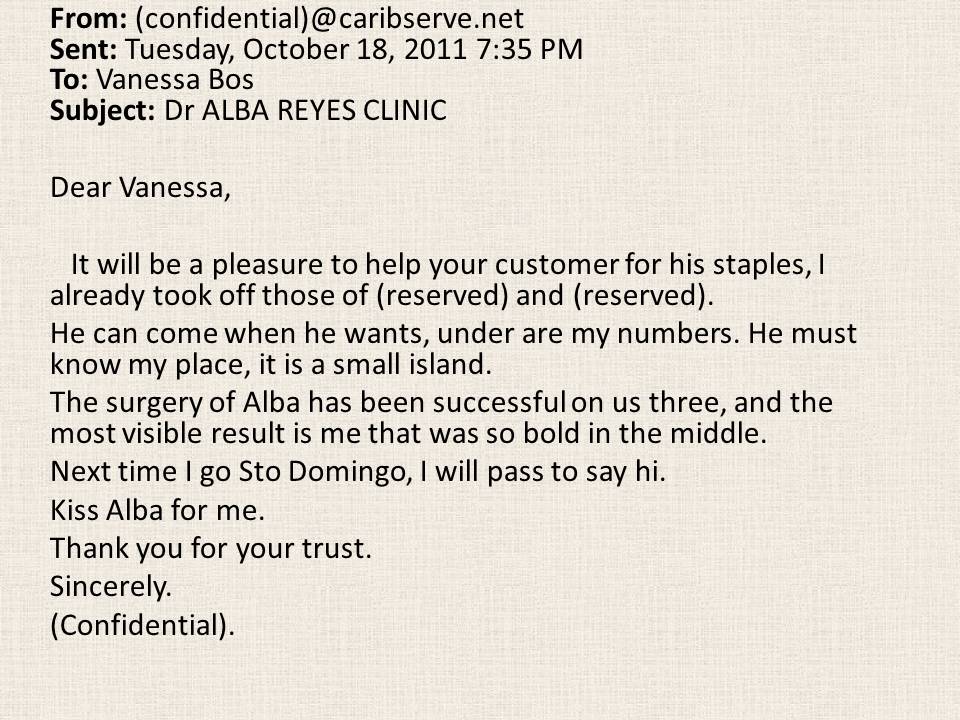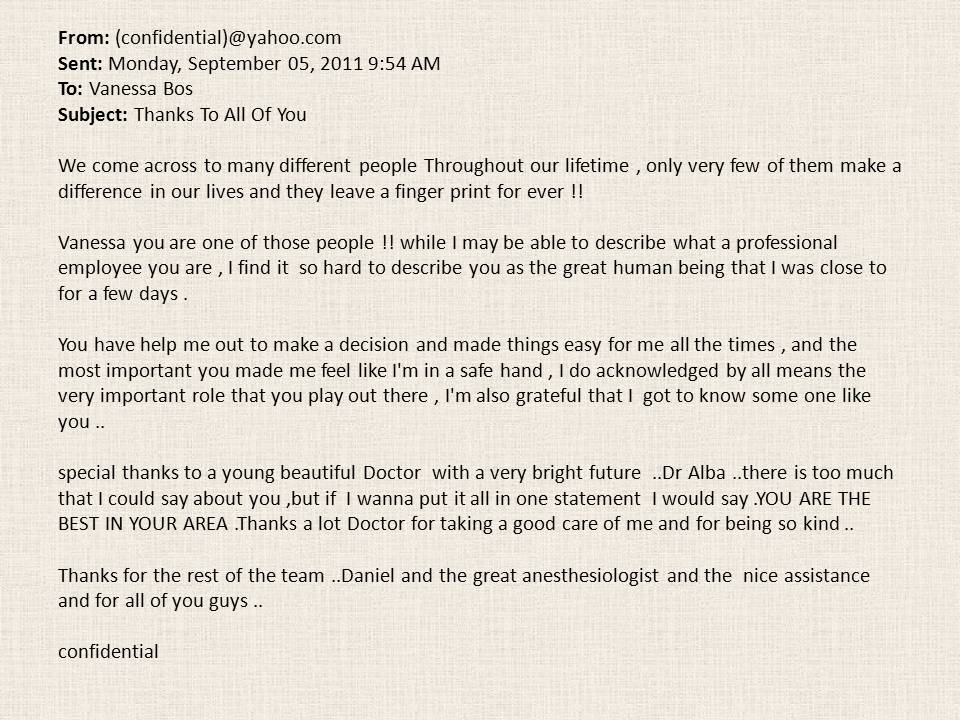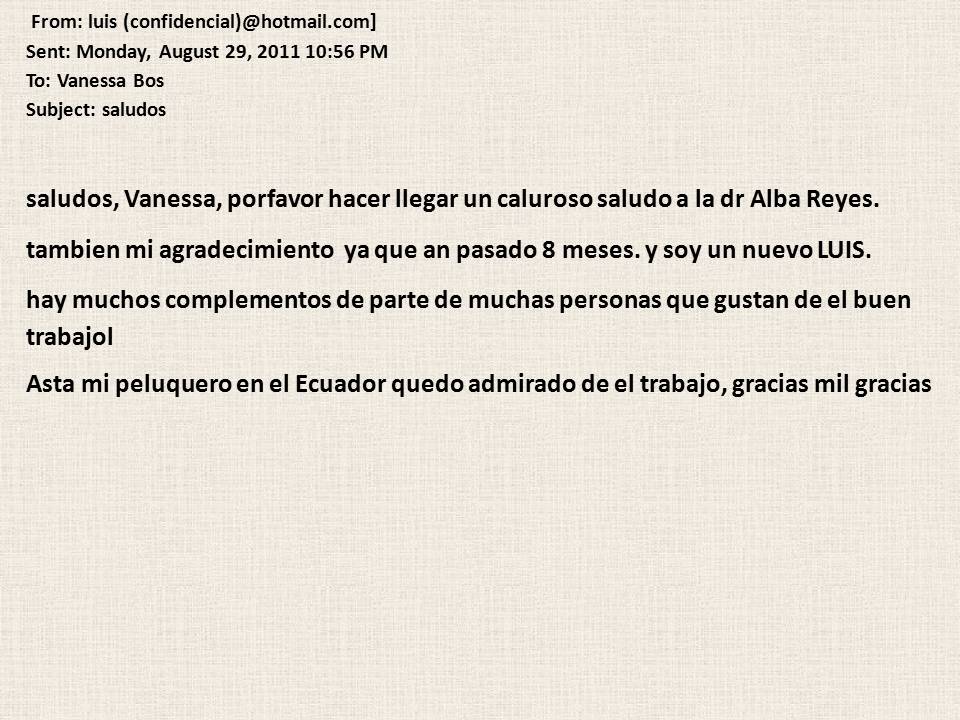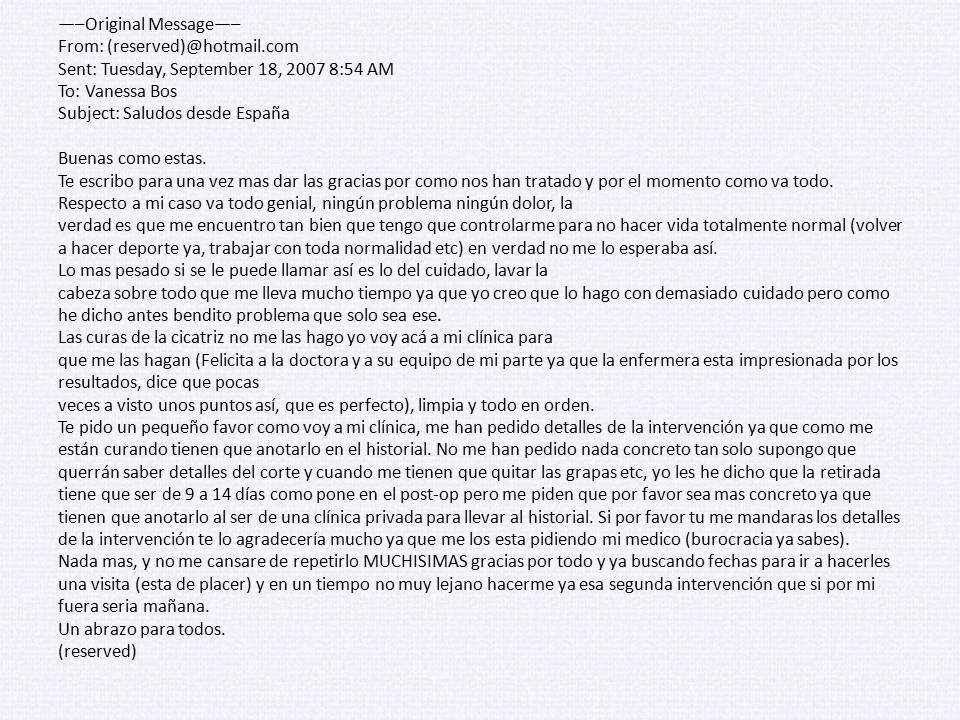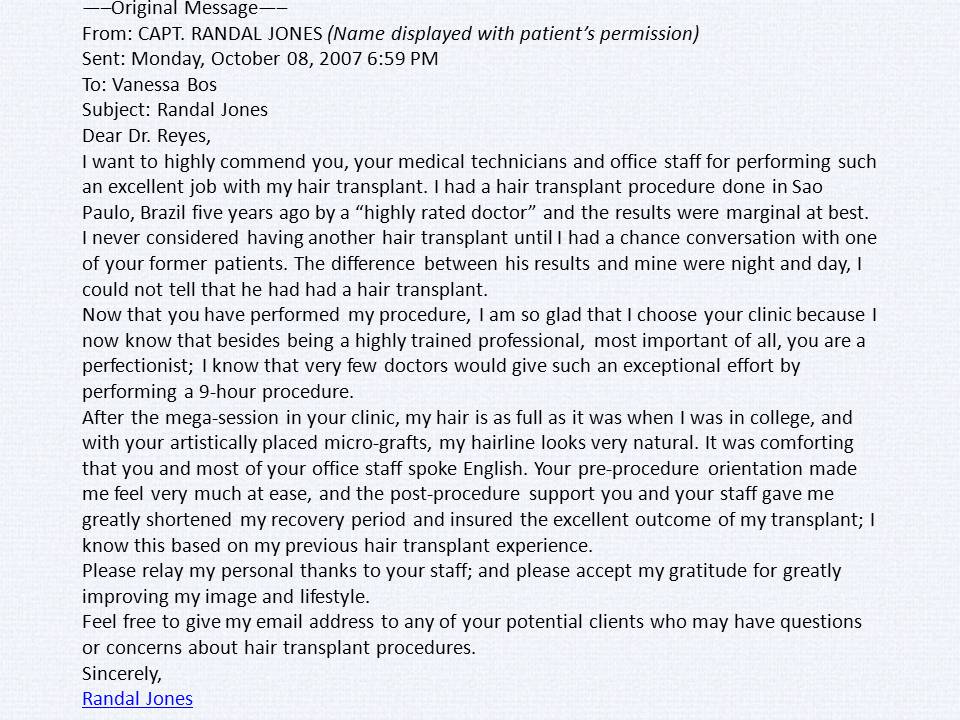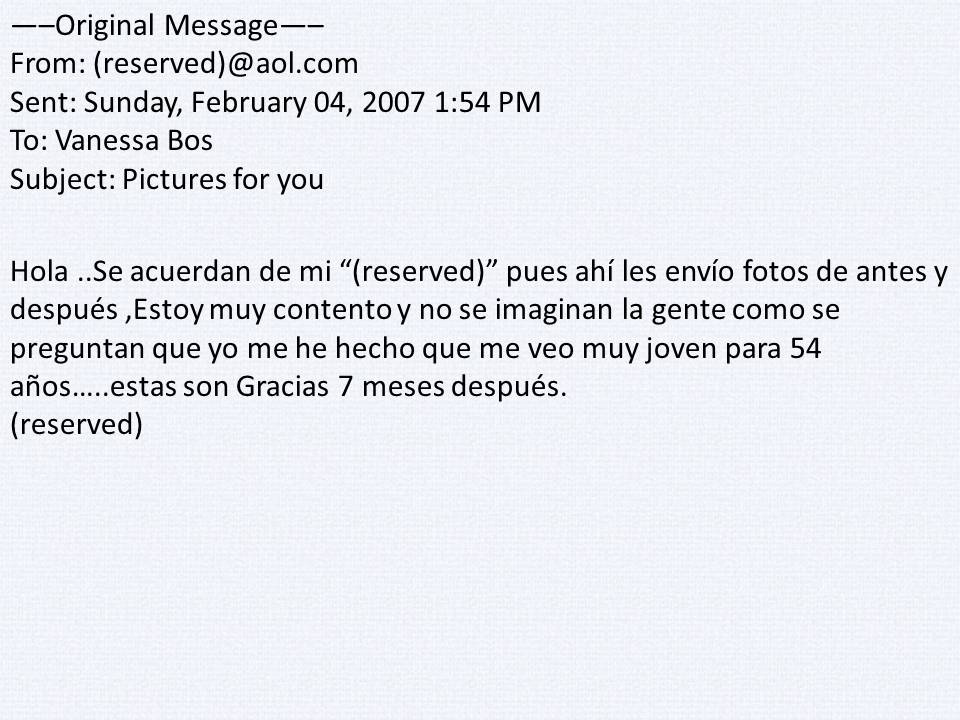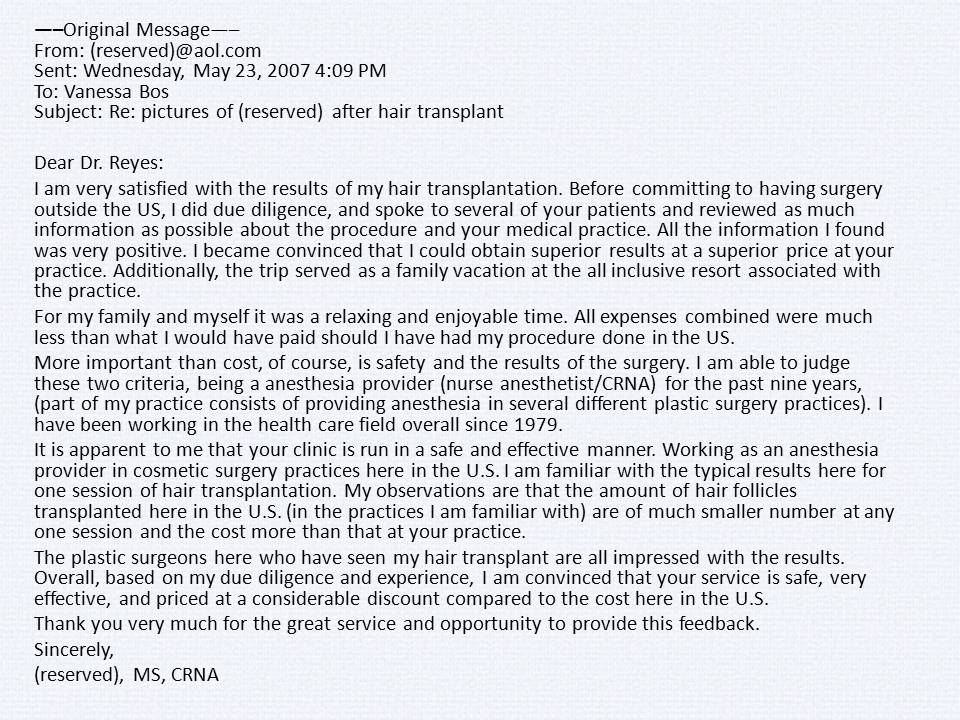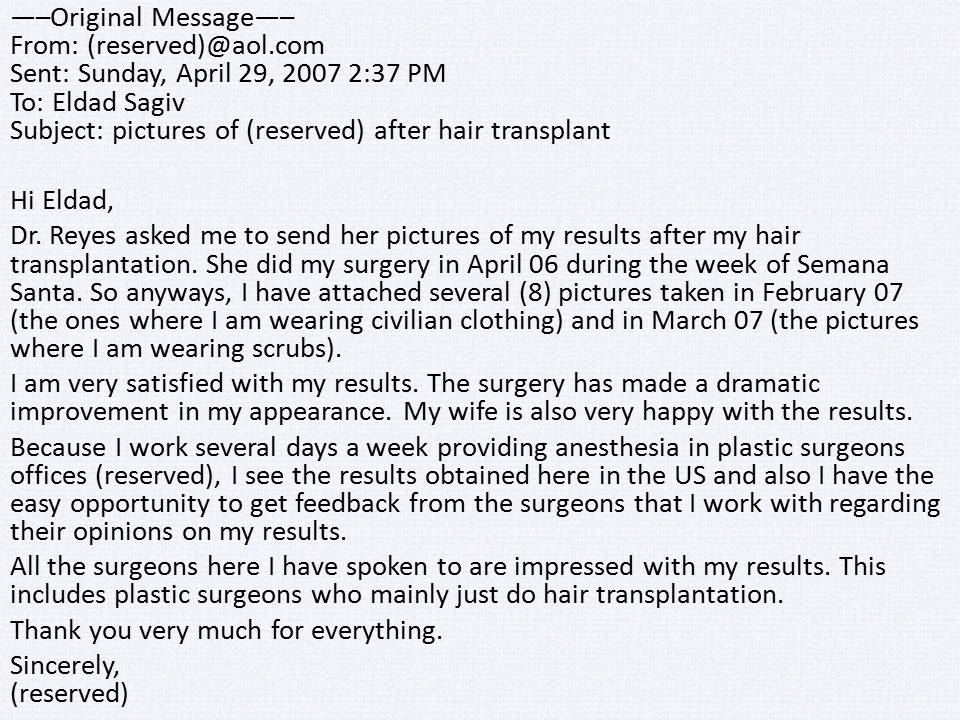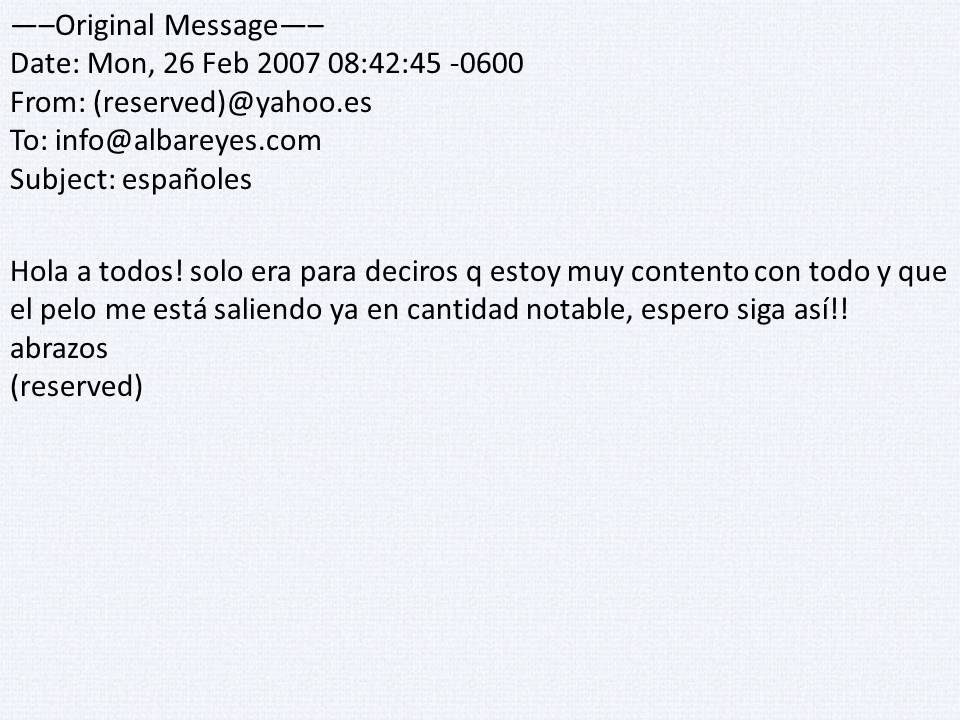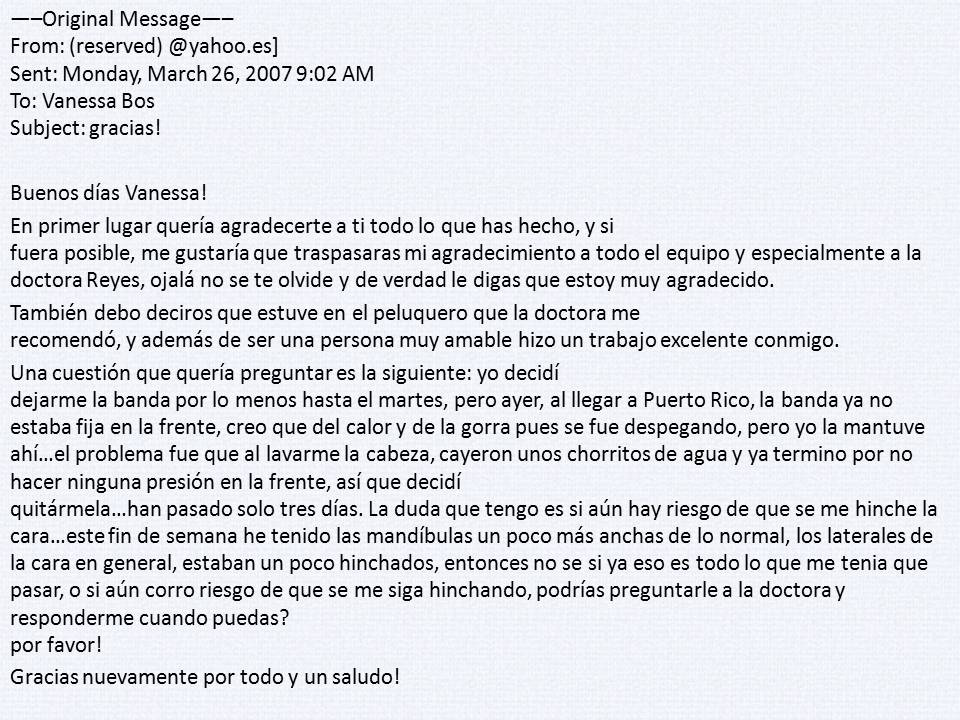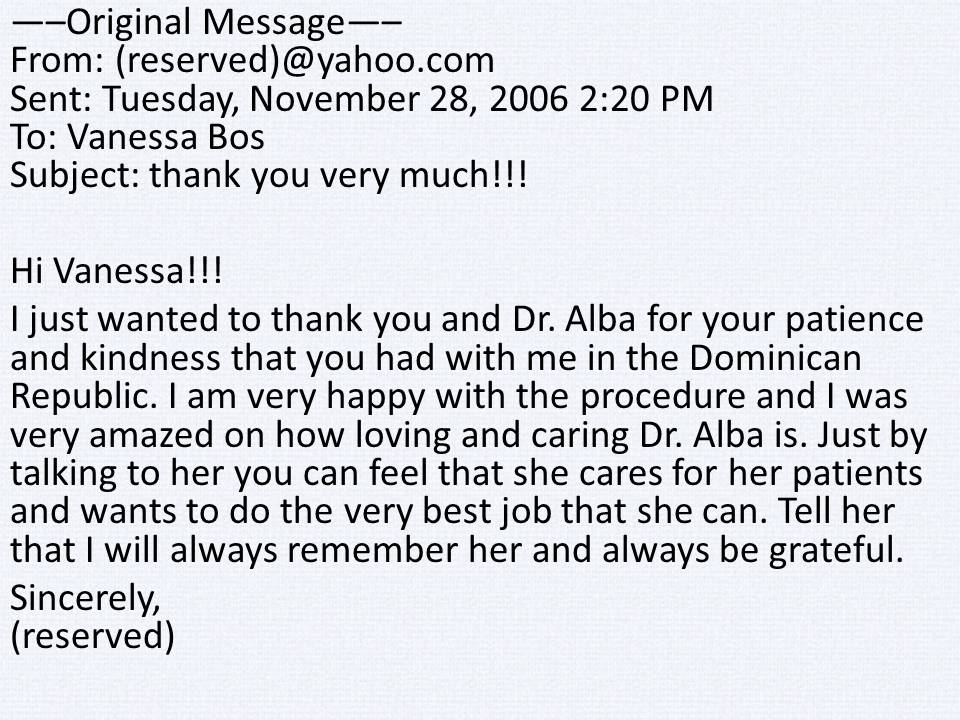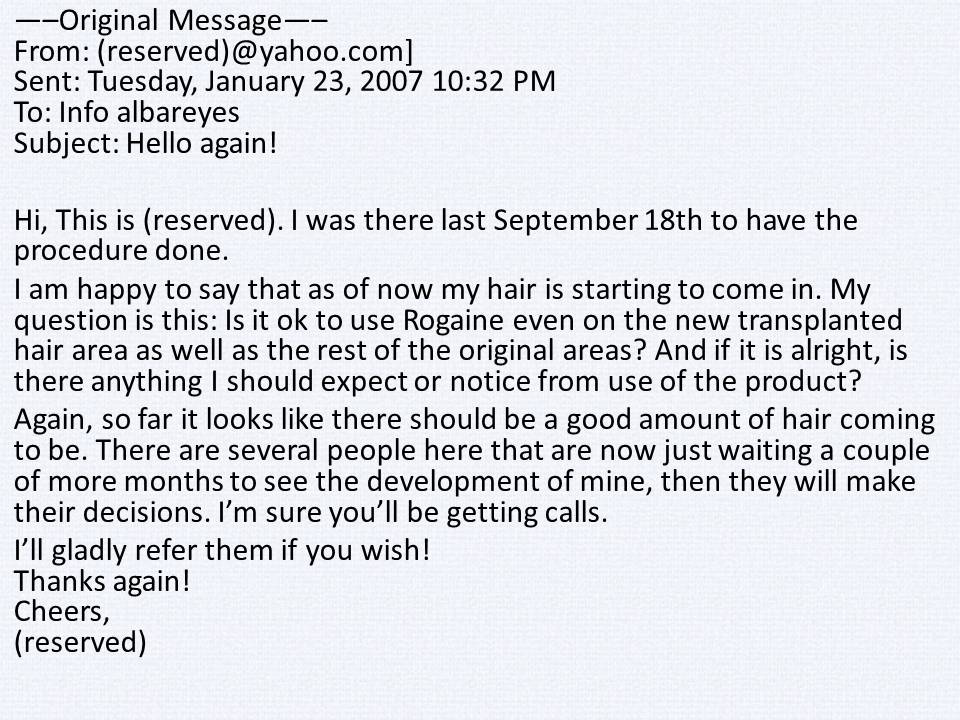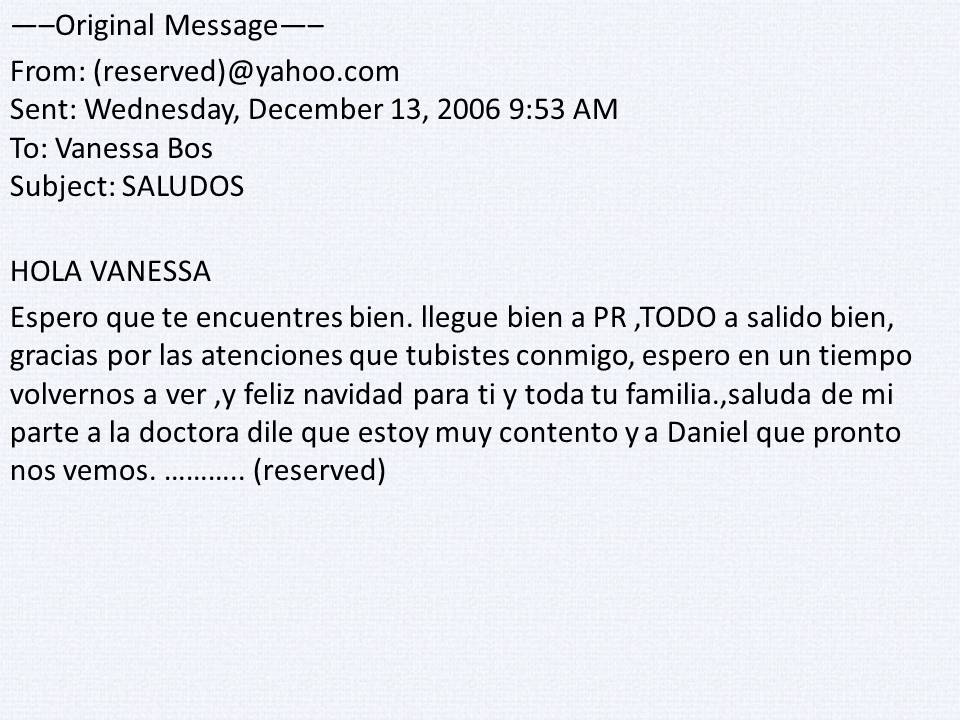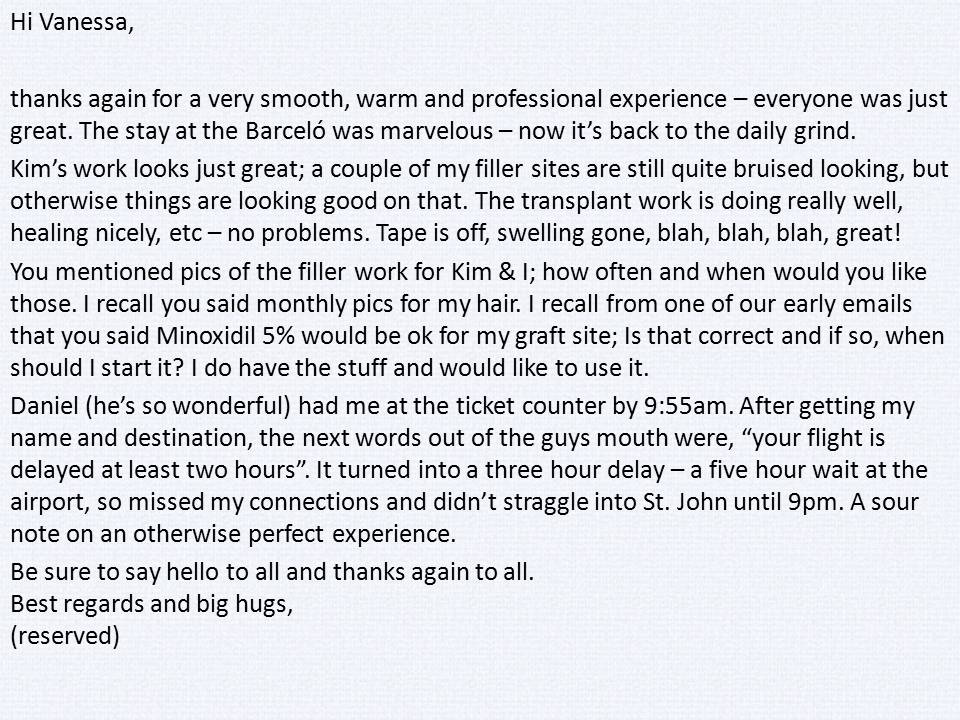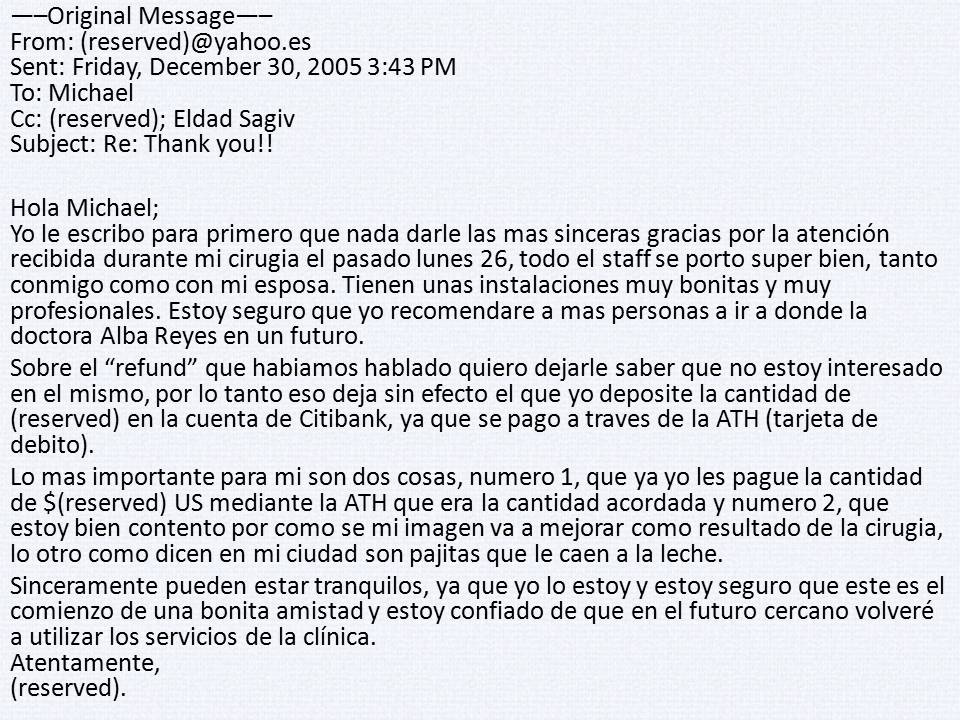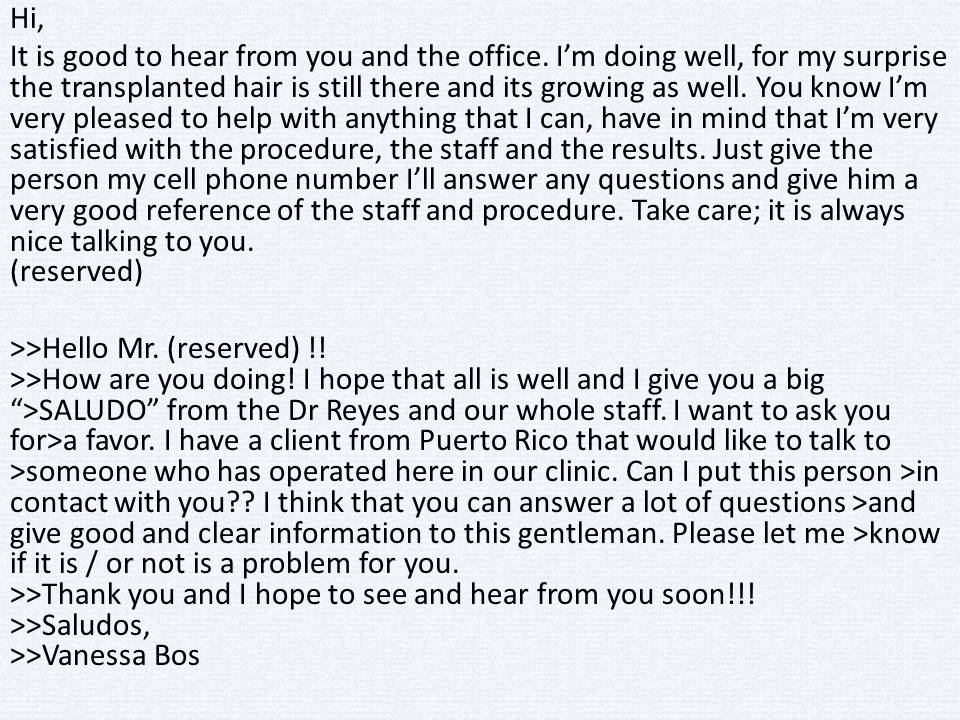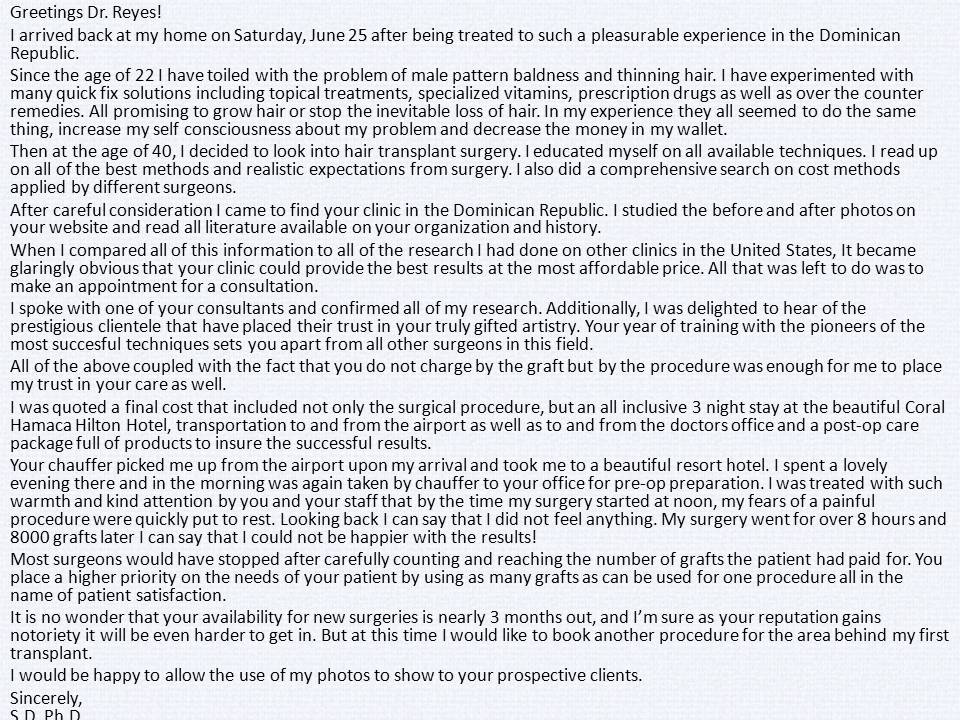 Trasplante de pelo al Christian Carabias
Trasplante de pelo con la doctora Alba Reyes en Santo Domingo, Republica Dominicana (Dominican Republic)



Cada paciente es muy especial para nosotros y hacemos todo lo posible para asegurarnos que estén totalmente satisfechos con su tratamiento. A continuación se encuentran algunos de los testimonios y comentarios que nos enviaron nuestros pacientes. Si desea hablar con alguno de ellos para comprender mejor su experiencia, por favor contáctese con nosotros.
---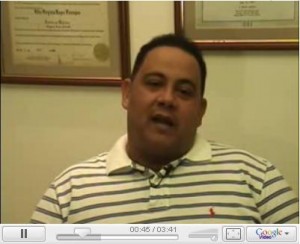 Testimonio del paciente, siete (7) meses después su primer transplante con la doctora Alba Reyes Sagiv, media hora antes de su segundo transplante en esta vez en la parte posterior de la cabeza.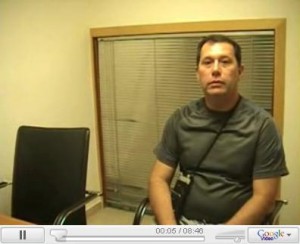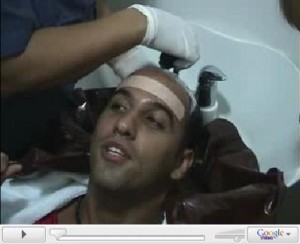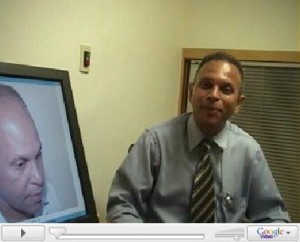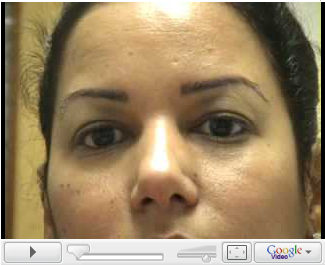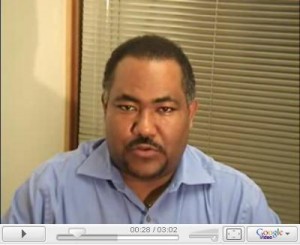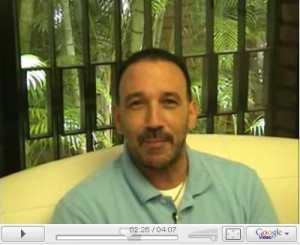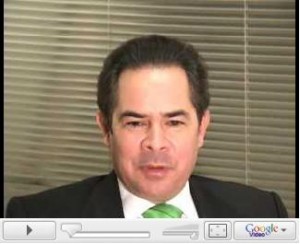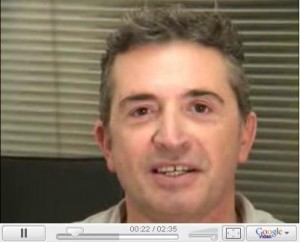 ---
—–Original Message—–
From: (reserved) [mailto: (reserved)@hotmail.com]
Sent: Tuesday, September 18, 2007 8:54 AM
To: Vanessa Bos
Subject: Saludos desde EspañaBuenas como estas.
Te escribo para una vez mas dar las gracias por como nos han tratado y por el momento como va todo.
Respecto a mi caso va todo genial, ningún problema ningún dolor, la
verdad es que me encuentro tan bien que tengo que controlarme para no hacer vida totalmente normal (volver a hacer deporte ya, trabajar con toda normalidad etc) en verdad no me lo esperaba así.
Lo mas pesado si se le puede llamar así es lo del cuidado, lavar la
cabeza sobre todo que me lleva mucho tiempo ya que yo creo que lo hago con demasiado cuidado pero como he dicho antes bendito problema que solo sea ese.
Las curas de la cicatriz no me las hago yo voy acá a mi clínica para
que me las hagan (Felicita a la doctora y a su equipo de mi parte ya que la enfermera esta impresionada por los resultados, dice que pocas
veces a visto unos puntos así, que es perfecto), limpia y todo en orden.
Te pido un pequeño favor como voy a mi clínica, me han pedido detalles de la intervención ya que como me están curando tienen que anotarlo en el historial. No me han pedido nada concreto tan solo supongo que querrán saber detalles del corte y cuando me tienen que quitar las grapas etc, yo les he dicho que la retirada tiene que ser de 9 a 14 días como pone en el post-op pero me piden que por favor sea mas concreto ya que tienen que anotarlo al ser de una clínica privada para llevar al historial. Si por favor tu me mandaras los detalles de la intervención te lo agradecería mucho ya que me los esta pidiendo mi medico (burocracia ya sabes).
Nada mas, y no me cansare de repetirlo MUCHISIMAS gracias por todo y ya buscando fechas para ir a hacerles una visita (esta de placer) y en un tiempo no muy lejano hacerme ya esa segunda intervención que si por mi fuera seria mañana.
Un abrazo para todos.
(reserved)
---
—–Original Message—–
From: (reserved)@aol.com
Sent: Sunday, February 04, 2007 1:54 PM
To: Vanessa Bos
Subject: Pictures for youHola ..Se acuerdan de mi "(reserved)" pues ahí les envío fotos de antes y después ,Estoy muy contento y no se imaginan la gente como se preguntan que yo me he hecho que me veo muy joven para 54 años…..estas son Gracias 7 meses después.
(reserved)
---
—–Original Message—–From: (reserved) [mailto: (reserved)@yahoo.com]
Sent: Wednesday, December 13, 2006 9:53 AM
To: Vanessa Bos
Subject: SALUDOS
HOLA VANESSAEspero que te encuentres bien. llegue bien a PR ,TODO a salido bien, gracias por las atenciones que tubistes conmigo, espero en un tiempo volvernos a ver ,y feliz navidad para ti y toda tu familia.,saluda de mi parte a la doctora dile que estoy muy contento y a Daniel que pronto nos vemos. ……….. (reserved)
---
—–Original Message—–
Date: Mon, 26 Feb 2007 08:42:45 -0600
From: (reserved)@yahoo.es
To: info@albareyes.com
Subject: españolesHola a todos! solo era para deciros q estoy muy contento con todo y que el pelo me está saliendo ya en cantidad notable, espero siga así!!
abrazos
(reserved)
---
—–Original Message—–
From: (reserved) [mailto: (reserved) @yahoo.es]
Sent: Monday, March 26, 2007 9:02 AM
To: Vanessa Bos
Subject: gracias!Buenos días Vanessa!
En primer lugar quería agradecerte a ti todo lo que has hecho, y si
fuera posible, me gustaría que traspasaras mi agradecimiento a todo el equipo y especialmente a la doctora Reyes, ojalá no se te olvide y de verdad le digas que estoy muy agradecido.
También debo deciros que estuve en el peluquero que la doctora me
recomendó, y además de ser una persona muy amable hizo un trabajo excelente conmigo.
Una cuestión que quería preguntar es la siguiente: yo decidí
dejarme la banda por lo menos hasta el martes, pero ayer, al llegar a Puerto Rico, la banda ya no estaba fija en la frente, creo que del calor y de la gorra pues se fue despegando, pero yo la mantuve ahí…el problema fue que al lavarme la cabeza, cayeron unos chorritos de agua y ya termino por no hacer ninguna presión en la frente, así que decidí
quitármela…han pasado solo tres días. La duda que tengo es si aún hay riesgo de que se me hinche la cara…este fin de semana he tenido las mandíbulas un poco más anchas de lo normal, los laterales de la cara en general, estaban un poco hinchados, entonces no se si ya eso es todo lo que me tenia que pasar, o si aún corro riesgo de que se me siga hinchando, podrías preguntarle a la doctora y responderme cuando puedas?
por favor!
Gracias nuevamente por todo y un saludo!
---
—–Original Message—–
From: (reserved)@yahoo.es
Sent: Friday, December 30, 2005 3:43 PM
To: Michael
Cc: (reserved); Eldad Sagiv
Subject: Re: Thank you!!Hola Michael;
Yo le escribo para primero que nada darle las mas sinceras gracias por la atención recibida durante mi cirugia el pasado lunes 26, todo el staff se porto super bien, tanto conmigo como con mi esposa. Tienen unas instalaciones muy bonitas y muy profesionales. Estoy seguro que yo recomendare a mas personas a ir a donde la doctora Alba Reyes en un futuro.
Sobre el "refund" que habiamos hablado quiero dejarle saber que no estoy interesado en el mismo, por lo tanto eso deja sin efecto el que yo deposite la cantidad de (reserved) en la cuenta de Citibank, ya que se pago a traves de la ATH (tarjeta de debito).
Lo mas importante para mi son dos cosas, numero 1, que ya yo les pague la cantidad de $(reserved) US mediante la ATH que era la cantidad acordada y numero 2, que estoy bien contento por como se mi imagen va a mejorar como resultado de la cirugia, lo otro como dicen en mi ciudad son pajitas que le caen a la leche.
Sinceramente pueden estar tranquilos, ya que yo lo estoy y estoy seguro que este es el comienzo de una bonita amistad y estoy confiado de que en el futuro cercano volveré a utilizar los servicios de la clínica.
Atentamente,
(reserved).
---
Greetings Dr. Reyes!I arrived back at my home on Saturday, June 25 after being treated to such a pleasurable experience in the Dominican Republic.
Since the age of 22 I have toiled with the problem of male pattern baldness and thinning hair. I have experimented with many quick fix solutions including topical treatments, specialized vitamins, prescription drugs as well as over the counter remedies. All promising to grow hair or stop the inevitable loss of hair. In my experience they all seemed to do the same thing, increase my self consciousness about my problem and decrease the money in my wallet.
Then at the age of 40, I decided to look into hair transplant surgery. I educated myself on all available techniques. I read up on all of the best methods and realistic expectations from surgery. I also did a comprehensive search on cost methods applied by different surgeons.
After careful consideration I came to find your clinic in the Dominican Republic. I studied the before and after photos on your website and read all literature available on your organization and history.
When I compared all of this information to all of the research I had done on other clinics in the United States, It became glaringly obvious that your clinic could provide the best results at the most affordable price. All that was left to do was to make an appointment for a consultation.
I spoke with one of your consultants and confirmed all of my research. Additionally, I was delighted to hear of the prestigious clientele that have placed their trust in your truly gifted artistry. Your year of training with the pioneers of the most succesful techniques sets you apart from all other surgeons in this field.
All of the above coupled with the fact that you do not charge by the graft but by the procedure was enough for me to place my trust in your care as well.
I was quoted a final cost that included not only the surgical procedure, but an all inclusive 3 night stay at the beautiful Coral Hamaca Hilton Hotel, transportation to and from the airport as well as to and from the doctors office and a post-op care package full of products to insure the successful results.
Your chauffer picked me up from the airport upon my arrival and took me to a beautiful resort hotel. I spent a lovely evening there and in the morning was again taken by chauffer to your office for pre-op preparation. I was treated with such warmth and kind attention by you and your staff that by the time my surgery started at noon, my fears of a painful procedure were quickly put to rest. Looking back I can say that I did not feel anything. My surgery went for over 8 hours and 8000 grafts later I can say that I could not be happier with the results!
Most surgeons would have stopped after carefully counting and reaching the number of grafts the patient had paid for. You place a higher priority on the needs of your patient by using as many grafts as can be used for one procedure all in the name of patient satisfaction.
It is no wonder that your availability for new surgeries is nearly 3 months out, and I'm sure as your reputation gains notoriety it will be even harder to get in. But at this time I would like to book another procedure for the area behind my first transplant.
I would be happy to allow the use of my photos to show to your prospective clients.
Sincerely,
S.D, Ph.D.
---
—–Original Message—–
From: CAPT. RANDAL JONES
(Name displayed with patient's permission)
Sent: Monday, October 08, 2007 6:59 PM
To: Vanessa Bos
Subject: Randal Jones
Dear Dr. Reyes,
I want to highly commend you, your medical technicians and office staff for performing such an excellent job with my hair transplant. I had a hair transplant procedure done in Sao Paulo, Brazil five years ago by a "highly rated doctor" and the results were marginal at best. I never considered having another hair transplant until I had a chance conversation with one of your former patients. The difference between his results and mine were night and day, I could not tell that he had had a hair transplant.
Now that you have performed my procedure, I am so glad that I choose your clinic because I now know that besides being a highly trained professional, most important of all, you are a perfectionist; I know that very few doctors would give such an exceptional effort by performing a 9-hour procedure.
After the mega-session in your clinic, my hair is as full as it was when I was in college, and with your artistically placed micro-grafts, my hairline looks very natural. It was comforting that you and most of your office staff spoke English. Your pre-procedure orientation made me feel very much at ease, and the post-procedure support you and your staff gave me greatly shortened my recovery period and insured the excellent outcome of my transplant; I know this based on my previous hair transplant experience.
Please relay my personal thanks to your staff; and please accept my gratitude for greatly improving my image and lifestyle.
Feel free to give my email address to any of your potential clients who may have questions or concerns about hair transplant procedures.
Sincerely,
Randal Jones
---
—–Original Message—–
From: (reserved)@aol.com
Sent: Wednesday, May 23, 2007 4:09 PM
To: Vanessa Bos
Subject: Re: pictures of (reserved) after hair transplantDear Dr. Reyes:
I am very satisfied with the results of my hair transplantation. Before committing to having surgery outside the US, I did due diligence, and spoke to several of your patients and reviewed as much information as possible about the procedure and your medical practice. All the information I found was very positive. I became convinced that I could obtain superior results at a superior price at your practice. Additionally, the trip served as a family vacation at the all inclusive resort associated with the practice.
For my family and myself it was a relaxing and enjoyable time. All expenses combined were much less than what I would have paid should I have had my procedure done in the US.
More important than cost, of course, is safety and the results of the surgery. I am able to judge these two criteria, being a anesthesia provider (nurse anesthetist/CRNA) for the past nine years, (part of my practice consists of providing anesthesia in several different plastic surgery practices). I have been working in the health care field overall since 1979.
It is apparent to me that your clinic is run in a safe and effective manner. Working as an anesthesia provider in cosmetic surgery practices here in the U.S. I am familiar with the typical results here for one session of hair transplantation. My observations are that the amount of hair follicles transplanted here in the U.S. (in the practices I am familiar with) are of much smaller number at any one session and the cost more than that at your practice.
The plastic surgeons here who have seen my hair transplant are all impressed with the results. Overall, based on my due diligence and experience, I am convinced that your service is safe, very effective, and priced at a considerable discount compared to the cost here in the U.S.
Thank you very much for the great service and opportunity to provide this feedback.
Sincerely,
(reserved), MS, CRNA
---
—–Original Message—–
From: (reserved)@aol.com
Sent: Sunday, April 29, 2007 2:37 PM
To: Eldad Sagiv
Subject: pictures of (reserved) after hair transplantHi Eldad,
Dr. Reyes asked me to send her pictures of my results after my hair transplantation. She did my surgery in April 06 during the week of Semana Santa. So anyways, I have attached several (8) pictures taken in February 07 (the ones where I am wearing civilian clothing) and in March 07 (the pictures where I am wearing scrubs).
I am very satisfied with my results. The surgery has made a dramatic improvement in my appearance. My wife is also very happy with the results.
Because I work several days a week providing anesthesia in plastic surgeons offices (reserved), I see the results obtained here in the US and also I have the easy opportunity to get feedback from the surgeons that I work with regarding their opinions on my results.
All the surgeons here I have spoken to are impressed with my results. This includes plastic surgeons who mainly just do hair transplantation.
Thank you very much for everything.
Sincerely,
(reserved)
---
—–Original Message—–
From: (reserved) [mailto: (reserved)@yahoo.com]
Sent: Tuesday, November 28, 2006 2:20 PM
To: Vanessa Bos
Subject: thank you very much!!!Hi Vanessa!!!
I just wanted to thank you and Dr. Alba for your patience and kindness that you had with me in the Dominican Republic. I am very happy with the procedure and I was very amazed on how loving and caring Dr. Alba is. Just by talking to her you can feel that she cares for her patients and wants to do the very best job that she can. Tell her that I will always remember her and always be grateful.
Sincerely,
(reserved)
---
From: (reserved) [(reserved)@yahoo.com]
Sent: Wednesday, March 07, 2007 2:35 PM
To: Vanessa Bos
Subject: RE: CLINICA DE DRA ALBA REYES : A favor

Hey Vanessa, as I mentioned to you previously Vanessa I am so thrill with my results and will be more than happy to speak with Ms. (reserved). Sent me her phone # or if she prefers you can give her my work # 850- (reserved). Tell the doctor I will wait another couple of months and sent her photos, if I don't stop by your office in one of my trips to Dominican Republic.
Hello Mrs (reserved)
This is Vanessa from Dr. Alba Reyes clinic. I hope all is well with you and your husband. It was such a pleasure talking to you on the chat last time, I told Dr. Reyes that you are so happy with the results and she said that she would love to see photos in a few months and that she is thrilled and happy that you kept in touch with us. I have a favor to ask you. at the moment I am talking to a very nice lady from Miami. She is 53 years old and she has actually almost the same case as you had. Thinning out in the frontal part and hairline, so that you can see the scalp. She is very interested in the surgery but would like to talk to another lady who did the surgery as she feels that it is a bigger step to take for a woman then for a man. In that sense she is hesitating because she doesn't know if it comes out nice with women, well that is something that you could tell her first hand. Her name is (reserved) and she prefers to speak in Spanish.
I would really appreciate it if you would talk to her, to tell her a bit more about the procedure and how you felt going through it. Please let me know if you would not mind to do that. Please let me know, hope to hear from you soon,
Saludos,
Vanessa Bos
---
—–Original Message—–
From: (reserved)@yahoo.com]
Sent: Tuesday, January 23, 2007 10:32 PMTo: Info albareyes
Subject: Hello again!Hi, This is (reserved). I was there last September 18th to have the procedure done.
I am happy to say that as of now my hair is starting to come in. My question is this: Is it ok to use Rogaine even on the new transplanted hair area as well as the rest of the original areas? And if it is alright, is there anything I should expect or notice from use of the product?
Again, so far it looks like there should be a good amount of hair coming to be. There are several people here that are now just waiting a couple of more months to see the development of mine, then they will make their decisions. I'm sure you'll be getting calls.
I'll gladly refer them if you wish!
Thanks again!
Cheers,
(reserved)
---
Hi Vanessa, thanks again for a very smooth, warm and professional experience – everyone was just great. The stay at the Barceló was marvelous – now it's back to the daily grind.Kim's work looks just great; a couple of my filler sites are still quite bruised looking, but otherwise things are looking good on that. The transplant work is doing really well, healing nicely, etc – no problems. Tape is off, swelling gone, blah, blah, blah, great!
You mentioned pics of the filler work for Kim & I; how often and when would you like those. I recall you said monthly pics for my hair. I recall from one of our early emails that you said Minoxidil 5% would be ok for my graft site; Is that correct and if so, when should I start it? I do have the stuff and would like to use it.
Daniel (he's so wonderful) had me at the ticket counter by 9:55am. After getting my name and destination, the next words out of the guys mouth were, "your flight is delayed at least two hours". It turned into a three hour delay – a five hour wait at the airport, so missed my connections and didn't straggle into St. John until 9pm. A sour note on an otherwise perfect experience.
Be sure to say hello to all and thanks again to all.
Best regards and big hugs,
(reserved)
---
Hi, It is good to hear from you and the office. I'm doing well, for my surprise the transplanted hair is still there and its growing as well. You know I'm very pleased to help with anything that I can, have in mind that I'm very satisfied with the procedure, the staff and the results. Just give the person my cell phone number I'll answer any questions and give him a very good reference of the staff and procedure. Take care; it is always nice talking to you.
(reserved) Hello Mr. (reserved) !!
How are you doing! I hope that all is well and I give you a big "SALUDO" from the Dr Reyes and our whole staff. I want to ask you for>a favor. I have a client from Puerto Rico that would like to talk to >someone who has operated here in our clinic. Can I put this person >in contact with you?? I think that you can answer a lot of questions >and give good and clear information to this gentleman. Please let me >know if it is / or not is a problem for you.
Thank you and I hope to see and hear from you soon!!!
Saludos,
Vanessa Bos
---
———————–
Para conocer ejemplos/demostraciones de resultados, visite nuestra sección sobre Estudios de caso de trasplantes capilares. Lo invitamos a leer los Testimonios de nuestros pacientes.
Visite la sección de Preguntas Frecuentes para saber más acerca de la Cirugía de Trasplante Capilar. Para realizar alguna pregunta específica, por favor contáctese con nosotros o solicite una consulta gratuita sobre su caso.